So being obsessed with lastfm for a little over a year now, I've decided to reflect on what my ears have fell upon.
1. What's your favorite song by 15?
Grateful Dead
-
China Cat Sunflower
My favorite version is probably China Cat Sunflower - I know You Rider @ Field Trip 08/27/72
That is a tough question to start this things off...
2. How did you get into 20?
City and Colour
- I am not too sure when was the first time I heard
Sometimes
. It came out in '05, but it must have been a year at after at least.
Bring Me Your Love
3. Who is your favorite member in 1?
The Avett Brothers
- "I wonder which brother is better"..... This is messed up making me decide which brother I like better. I am going to have to say Seth.
This is probably what twisted my arm -
4. What's your favorite lyric bit by 31?
Tokyo Police Club
-
Citizens Of Tomorrow
"I have a microchip
Implanted in my heart
So if I try to escape
The robots will blow me apart
And my limbs will go flying
And land before the ones that I love
Who would wail and would weep
But the robots would keep them at bay
While I shut my eyes
For the very last time.
Citizens of tomorrow be forewarned. "
It reminds me of my favorite Kurt Vonnegut's book
Player Piano
.
5. Have you ever seen 22 live?
Ottis Redding
- The closest I have come to a live Otis show is putting some change in the Juke box and letting my soul travel back in time.
Out of my top 50 I have seen 27 of them live. Last night would have made it 28, but the NBA drafted delayed me making the opener. Fuck the Knicks for wasting my night, and I hate Minnesota for taking my boy Johnny Flynn. I wanted him in NY!
Yup just another reason why it is IMPOSSIBLE to truly become a Knicks fan.
6. What's your favorite album from 10?
Horse Feathers
- This is a toss up. I know they just have two LPs;
Words Are Dead
and
House With No Home
, but in my ears they are pretty much interchangeable. I guess the objective of this list is to not be impartial and decide.
okay -
House With No Home
7. Do you own any merchandise from 3?
Modest Mouse
- Well I wanted a MM shirt badly, but one specifically. I wanted the green one which ended up being the ladies version. That didn't scare me away, but purchasing the large still wasn't large enough for my scrawny ass so I gave it away.
I have all of their music, and just picked up that orange 7".
8. What is a good memory you have of 7?
Frightened Rabbit
- I have been listening to these guys for a while. My fondest memory would have to be their show at Le Poisson Rouge. Their whole set list was determined by the audience. I learned that the artist themselves make for better song selection, but it was my first show of that nature.
The set started with
My Backwards Walk
which proves my point about leaving it to most uneducated audiences.
9. Is there a member of the same age as you in 2?
Langhorne Slim
- Ha this question is funny. Sean is actually the same age as I am and we have other things in common too. Ha!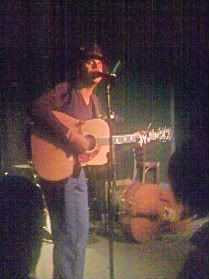 10. When did you first get into 8?
Mason Jennings
- He's been around awhile prior to retiring my turntables. He however was one of the first people I got into when I picked up my guitar. Circa 2002?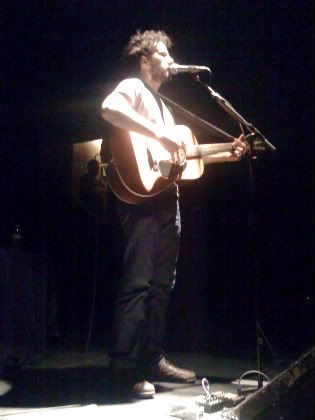 11. Who likes 4 along with you?
My Morning Jacket
- Anyone with ears? I guess the most evident would be my Bonnaroo crew. We've seen MMJ a number of times. Roo '08 arguably the best live show I have ever seen!
Sick cover.
12. Which song did you first hear from 16?
Arcade Fire
- I am not sure. Definitely something off of
Funeral
. Possibly
Rebellion (Lies)
13. What song made you fall in love with 5?
The Black Keys
-
The Lengths
Doesn't that song do it for everyone?
14. Which song do you not like by 18?
Ray LaMontagne
-
You Are the Best Thing
Man I hate that song. He has some gems to hate, but some gems to love too.
15. Why do you like 14's songs?
Electric President
- First off Ben Cooper is the man. My ears crave his music. Every LP he releases, whether it be
Radical Face
or
Patients
is constructed flawlessly. The entirety of each work is a body of art that needs to be explored.
16. Where did you first hear 6?
Fleet Foxes
- I jumped on them pretty early. I heard Textbook Love and In The Hot, Hot Rays prior to their 2008 EP and LP. Not sure where those tracks are from?
17. How long was 19 a singer before you liked them?
Bon Iver
- I first heard Justin sing in 07, but I am sure he sang for pretty much all of his 28 years of existence.
18. Does 13 have a song that gives you a bad memory?
Peter and the Wolf
- Ummm, no. I guess the only bad memory is why is he on my first page of artist. I liked the dude, but it surprises me every time I see him listed.
19. When did you get into 17?
Death Cab for Cutie
- It took me a while. I hadn't really thoroughly examined their music up until a few years ago thanks to a friend. I am still listening.
20. How long have you been into 9?
Chad VanGaalen
- I remember discovering
Graveyard
and
Red Hot Drops
and throwing those songs on my playlists. I believe that was sometime in 2006.
21. If 11 had a concert 300 miles away, would you drive there to see them?
The Felice Brothers
- Well I saw them as close to 3 blocks from my apt in BK and as almost 900 miles away in the Fields of Tennessee. Obviously they weren't the deciding factor for attending Roo '08, so nope, I would not travel 300 miles to just see the Felice Brothers. If it was to get drunk with them, than that is a different story.
Prior to Simon leaving......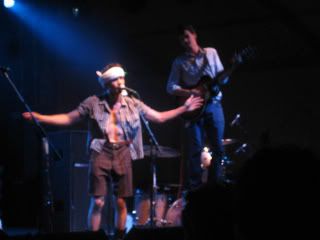 22. How many CDs do you own of 12?
Port O'Brien
-
The Wind and the Swell
All We Could Do Was Sing
Winter
23. Does 21 have a song that makes you cry?
Ben Kweller
-
Red Eye
definitely has potential.
24. Does 27 have a song that makes you happy?
Broken Social Scene
-
Love And Mathematics
. My two favorite things.
25. Does 23 have a song that makes you smile?
Greg Laswell
-
I'd Be Lying
The reason is because the first two seconds of the song makes me think it's
Talib Kweli
's
The Blast
.... Right?
26. What's the last song you've listened to from 28?
Cloud Cult
-
Journey of the Featherless
5/14/2009
27. Is there a song by 32 that you've listened to more than 30 times?
Dr. Dog
- After seeing who was in spot #32, I automatically decided nope, no way there is 30+ plays on a song. I was wrong.
The Breeze
+45!
28. What is a song from 50 that you've only listened to once?
Radical Face
- No way.
29. Is there a song you are sick of hearing by 24?
Cold War Kids
- Two no ways in a row. I only put music in my ears on want too listen to.
30. What song got you into 40?
Beck
-
Danger Mouse
31. What is your favorite single by 25?
The Raconteurs
-
Carolina Drama
. Seeing Jack rip this shit live solidified it for me. Actually need to hear this joint ASAP.
32. If 49 hated you, what would you do?
Vetiver
- Well we rubbed shoulders at Bell House and there was no hate. So that squashes that rumor.
33. What would you say if 43 or one of the members from 43 asked you out?
Chris Wall
- I hate that he has this spot. He shouldn't be in my top 100. I just had a hard time digesting his 2008 LP and it got a lot of plays that I didn't really hear.
I would probably respectfully decline. Unless it was Ben and then I would try to move in on Zoey!!
34. Would you care if 41 had a boyfriend/girlfriend?
Leonard Cohen
- He is a pimp. He probably has like 7. I promote pimping at 74.
35. Who has the best voice in 46?
Matt Costa
- Arguably?
36. Do you think 26 is/are good looking?
Tea Leaf Green
- only when sporting the mu mu's.
37. How many times have you listened to your favorite song by 36?
Throw Me The Statue
-
Moonbeams
38. How many CDs do you own of 30?
David Karsten Daniels
- Just one [album artist=David Karsten Daniels[/]Fear of Flying[/album].
Jesus and the Devil
is my favorite jam of his however so if any of you have [album artist=David Karsten Daniels[/]Sharp Teeth[/album] send it my way! Please.
39. Is there a song from 38 that makes you mad?
Cat Power
-
I Don't Blame You
I dig the jam, but it irks me.
and she is so lovely.
40. Which member from 39 do you want to see go solo? If 31 is only one artist, what would you do if they joined a group?
Benoît Pioulard
- He is ranked way too high in my ears!
41. What does your favorite song from 48 remind you of?
Deer Tick
-
These Old Shoes
nothing.?..
42. Did you hate __ at first?
I am missing someone in my top 50 and they go here?
43. Does your best friend also listen to 33?
The Books
- Nope. Figuring out the first part of the questions is the tricky part. All those considered, one of them has had some listens I am sure.
44. Do you think your parents would like 37?
Conor Oberst
- Hmmmm, Dana Dukes... He may like some of it. I haven't given him any Conor however, he is more of an Avetts / Neil Young kind of dude.
45. Does 47 have a song that makes you want to dance?
The Dodos
- Nope. Maybe sway.
46. Have you ever seen 34 in person?
M. Ward
- No I have not. However once Monsters of Folk comes my way I will be there.
47. Do you like 44's name?
Samamidon
- It actually confuses me. Is it Sam Amidon or Samamidon? After the confusion clears, I am fine with it either way.
48. Is there someone in 45 that you want to go out with?
JBM
- Nope, but I will reiterate that I missed him perform last night, I literally walked in as he was exiting the stage. Some say it was the draft some say it was the brown?
49. Do you know anyone that hates 39?
Jessica Lea Mayfield
- If so, I will punch you in your dome.
That is a dope pic of her and her bro killing it!
50. Have you ever danced to a song from 35?
Blitzen Trapper
-
Black River Killer
. You dance to
Dr. Dre
right?