RSS
Recomendar
Nov 12 2009, 0h20
Way Out West 2008. Gothenburg, August 8
When me and my girlfriend had seen
Roky Erickson
for the first time last winter I told her "Now we have seen 4 of the greatest 60's/early 70's garage bands, Roky,
The Stooges
,
MC5
and
New York Dolls
... it's only
The Sonics
left to make the list complete". At that time I didn't even know the Sonics were playing again. When I heard that they were going to play the Way Out West festival I was very surprised. If someone would have told me that I was going to see any of those bands 5 years ago I would have thought they were joking...
The Sonics
In 1964-65 when The Sonics released their first records they were way ahead of their time, the music was raw, aggressive and distorted. With songs like

Psycho
,

The Witch
,

Strychnine
,
The Hustler
and
Boss Hoss
and Jerry Roslie's wild screams they pretty much invented punk rock 12 years too early.
But the question was if they could recreate all that energy 40 years later... They still had most of the energy and the screams were still there. They played most of the songs from their two first albums from 1966, the songs I mentioned earlier and their cool covers of
Have Love Will Travel
,
Money
,
Walking the Dog
and a few rock n' roll standards. All in all it was a great show, they seemed to be having lots of fun and happy to be playing festivals were most people wasn't even born when they started out. They even joked about how they used to party with the audience parents back in the day...
Grinderman
Next up was
Grinderman
. I have seen
Nick Cave and the Bad Seeds
a couple of times before and was looking forward to see
Nick Cave
make noise with Grinderman. I think the Grinderman album is the best thing Nick has released in years. Like the album, the concert was noisy and aggressive reminding more of Cave's earlier band
The Birthday Party
and his first solo albums than the latter day Bad Seeds albums. The only downside was since they have only released one album they played every song from it and not all songs are as great as
Depth Charge Ethel
,
Set Me Free
,
Electric Alice
,
Honey Bee
and
Man In The Moon
... but Nick made up for the lesser songs by being the great frontman he is.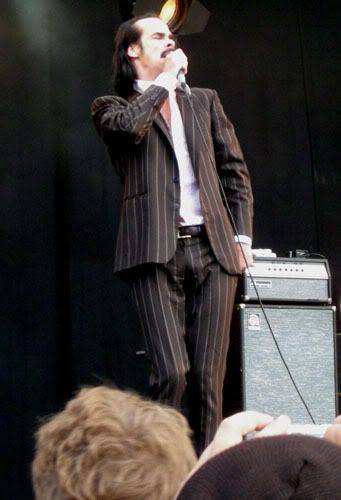 Nick Cave - Grinderman
They also played the Bad Seeds classic
Tupelo
and the new song
Dream
that sounded very good too. It would have been very cool to see them do a couple of old Birthday Party songs like

Nick The Stripper
or

Release the Bats
and
From Her to Eternity
or
Saint Huck
from his first solo album... Another great show.
I would love to see Nick Cave and the Bad Seeds again some time soon too, it was 2001 or 2002 the last time and it was one of the best concerts I've seen...
Broder Daniel
To end the night
Broder Daniel
played their last show ever as a tribute to their guitar player Anders Göthberg who passed away earlier this year. It was a very emotional concert experience even if I have seen better BD shows musically. I hadn't listened that much to them the last year or so and had almost forgot how much I love them. To be honest few bands/artist affect me like BD,
Henrik Berggren
wear his heart on his sleeve and write such simple, powerful and honest lyrics. I found myself standing with my arm in the air and singing along to every word...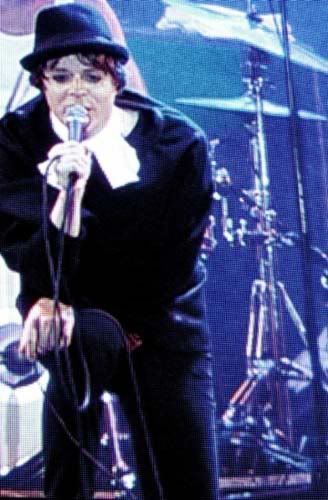 Henrik Berggren - Broder Daniel
Some of the highlights were
Sorrow
,

Work
, the rarity

Lemon
,
I'll Be Gone
,
What's Good
,

Shoreline
,
Old in Just One Day
and of course

When We Were Winning
... and the all new song
Hold On To Your Dreams
was great too. The only song I really missed from the set was
Luke Skywalker
... and it would have been great to hear the long acoustic version of When We Were Winning live atleast once before they quit.
It was completely, completely wonderful and a worthy ending to one of the best and most important swedish bands ever. Along with
Bruce Springsteen
and Roky Erickson this was the best concert of the summer for me.