RSS
Recomendar
Jan 4 2011, 9h19
It's a little bit late, but I had to let 2010 completely come to an end. There were some great records I was just hearing as the new year rolled in.
BEST ALBUMS
10.
The Hold Steady
-
Heaven Is Whenever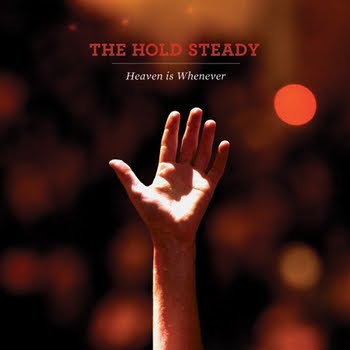 I just started to get into The Hold Steady last year, so I don't have the same long history with the band as some people. A lot of people criticized this album for not having the sparkle of their last couple, but it's a solid, fun rock record. It was summery in the summer, but has kept it's relevancy into the winter. The loss of Franz Nicolay gives the band fewer over-zealous background vocals and piano parts, but Tad Kubler's guitar parts have a chance to shine. Lyrically, Heaven Is Whenever doesn't pack much punch, but the fun music makes it a solid Hold Steady release.
9.
The National
-
High Violet
The National take the "pretentious" out of the term "pretentious" indie rock. It's a deep, dark, personal, poetic album that anyone can relate to. And most importantly to me, the music is soooooo much less boring than Boxer. This band made a turn-around for me.
8.
Good Old War
-
Good Old War
Good Old War tried some experimental things with their second album. Some things hit and some things missed. I'd love to see them return to the poppy folk and perfect three-part albums that made their debut so special.
7.
The Graduate
-
Only Every Time
Beautiful record. I just got it but I feel like it will totally grow on me. We've been waiting for this album for a really long time and it totally delivers. Their songwriting has matured to a more noodly/ambient indie rock sound, as opposed to poppy emo, and for the better.
6.
Motion City Soundtrack
-
My Dinosaur Life
I'm glad Motion City Soundtrack brought the edge back. This album has the intensity and rawness of I Am the Movie, with the catchiness and maturity of Even If It Kills Me. "@!#?@!" is such a horrible dud, though. MCS, you are not an irish punk band. This album will always bring awesome memories of Atombender playing before MCS at Veishea.
5.
Iron Chic
-
Not Like This
Don't kill me, but I like Iron Chic more than Latterman. It was good to sweat with these dudes in a Des Moines basement/cavern. Time Keeps On Slipping is such a rad song.
4.
The Menzingers
-
Chamberlain Waits
Punknews.org introduced me to The Menzingers right as their promo cycle for this album started. I checked out their back catalog and fell in love with their catchy, gruff, Clash-inspired style of punk rock. They definitely do the dual vocalist thing right. It's also pretty awesome that Tom May used to be in Bob and the Sagets.
3.
The Riot Before
-
Rebellion
I was blessed to see and hang out with The Riot Before when we both ended up in Indianapolis on the same day this summer. They keep writing solid tunes and somehow perfected punk rock 6/8 time signatures.
2.
The Gaslight Anthem
-
American Slang
The Gaslight Anthem can do no wrong, except for delivering an album that didn't surpass The '59 Sound. It's still amazing though. They went in a rock'n'roll/british swagger direction with a lot of songs that sometimes feels fresh and sometimes feels forced (when Brian Fallon is wailing). I hope they hold on to their punk roots.
1.
Lakes
-
The Agreement
What can I say about this album? It's raw and catchy pop songs about a heartbreaking divorce. Unbelievable. Every song sticks to my bones.
Honorable Mentions
Ascend The Hill
-
Hymns: Take The World, But Give Me Jesus
(check out
www.comeandlive.com
, seriously)
Fake Problems
-
Real Ghosts Caught On Tape
Bad Books
-
Bad Books
Sundowner
-
We Chase the Waves
The Chariot
-
Long Live
Disappointments
Titus Andronicus
-
The Monitor
Against Me!
-
White Crosses
EPs
1.
History On Repeat
-
So Long, Future Boy
: Best local band.
2.
Arms
-
Arms EP
3.
Stay Ahead Of The Weather
-
We Better Get Goin' If We're Gonna
: Best new pop-punk band
4.
Bomb the Music Industry!
-
Adults!!!... Smart!!! Shithammered!!! And Excited By Nothing!!!!!!!
5.
Sharks
-
Show Of Hands
ALBUMS I STILL NEED TO GET
We Are The Union
-
Great Leaps Forward
Crime In Stereo
-
I Was Trying To Describe You To Someone
Rocky Votolato
-
True Devotion
2009 Late Pass (the best albums from 2009 I didn't get until 2010)
Thrice
-
Beggars
Take It Back!
-
Atrocities
Mumford & Sons
-
Sigh No More
Best Concert: Iron Chic in some dude's really tiny basement in Des Moines or
William Elliott Whitmore
in Ames.
Best Movie: I really sucked at going to movies this year. I still need to see The Social Network and True Grit. So I'll say a tie between Inception and Exit Through the Gift Shop
Best TV Show: Bored To Death
ACCORDING TO LAST FM
Most listened to band in 2010: The Gaslight Anthem
Most listened to record in 2010: American Slang
Most listened to song: Lakes -
Back In Your Head