RSS
Recomendar
Mai 16 2008, 6h29
Wow, 10,000 plays is a lot of songs. Of course it's nothing compared to my friend
moik
's seven gajillion plays, but it's a milestone.
Blitzen Trapper
, congratulations for leading my charts. You keep releasing all these singles and EPs and Daytrotter sessions and I keep listening. I wish more of my favorite bands would put out new songs in between albums like that.
Leading the songs chart is
The Lemon of Pink
by
The Books
, but Books, you are dirty cheaters for using the same title for two different songs. Next time, follow
Jeff Mangum
's example: it's
The King of Carrot Flowers, Pt. 1
, and Part 2, and so on.
Burial
, you too: stop calling all those intros and outros
Untitled
.
For your subterfuge, Books, you are disqualified. Next in line is
Angels
, which is a great song, but instead I use my cruel and arbitrary power as king to give the award to
These Boots Are Made for Walking
.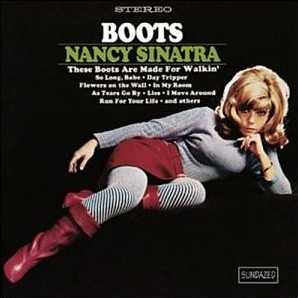 Why? Because Nancy is hot. Plus it's the only song I will karaoke without protest.
Johnny Cash
style, naturally.
And special kudos to
The Handsome Family
, my favorite band introduced to me by last.fm. That quote over there in my sidebar that begins "Butterfly..."? Not only is that a great lyric, it's one of the smartest things I've ever heard anybody say.
In another six months, approaching 20K, I hope there's another band I don't know anything about right now that gives me that much back. Discovery is a wonderful thing.