Will Argent, 22, Masculino, Austrália
willdotargent.comÚltima visita: Mês passado
5

2

2

9

2

execuções desde 4 Fev 2007
| | | | | | |
| --- | --- | --- | --- | --- | --- |
| | | Suicidal Tendencies – Join The Army | | | 26 Nov 12h14 |
| | | Suicidal Tendencies – Institutionalized | | | 23 Nov 23h47 |
| | | Suicidal Tendencies – Institutionalized | | | 23 Nov 23h47 |
| | | Suicidal Tendencies – Institutionalized | | | 23 Nov 23h47 |
| | | Suicidal Tendencies – Institutionalized | | | 23 Nov 23h47 |
| | | Suicidal Tendencies – Won't Fall In Love Today | | | 23 Nov 23h43 |
| | | Suicidal Tendencies – Won't Fall In Love Today | | | 23 Nov 23h43 |
| | | Suicidal Tendencies – Won't Fall In Love Today | | | 23 Nov 23h43 |
| | | Suicidal Tendencies – Won't Fall In Love Today | | | 23 Nov 23h43 |
| | | Suicidal Tendencies – Subliminal | | | 23 Nov 23h42 |
Ver mais

Feeds
| | | | | |
| --- | --- | --- | --- | --- |
| 1 | | | | |
| 2 | | | | |
| 3 | | | | |
| 4 | | | | |
| 5 | | | | |
| 6 | | | | |
| 7 | | | | |
| 8 | | | | |
| 9 | | | | |
| 10 | | | | |
| 11 | | | | |
| 12 | | | | |
| 13 | | | | |
| 14 | | | | |
| 14 | | | | |
| 16 | | | | |
| 16 | | | | |
| 18 | | | | |
| 19 | | | | |
| 19 | | | | |
| 19 | | | | |
| 22 | | | | |
| 22 | | | | |
| 22 | | | | |
| 25 | | | | |
| 25 | | | | |
| 27 | | | | |
| 28 | | | | |
| 29 | | | | |
| 29 | | | | |

Feeds
| | | | | | |
| --- | --- | --- | --- | --- | --- |
| 1 | | | | | |
| 2 | | | | | |
| 2 | | | | | |
| 4 | | | | | |
| 4 | | | | | |
| 6 | | | | | |
| 7 | | | | | |
| 8 | | | | | |
| 8 | | | | | |
| 8 | | | | | |
| 11 | | | | | |
| 11 | | | | | |
| 13 | | | | | |
| 13 | | | | | |
| 15 | | | | | |
| 16 | | | | | |
| 16 | | | | | |
| 18 | | | | | |
| 19 | | | | | |
| 19 | | | | | |
| 19 | | | | | |
| 19 | | | | | |
| 23 | | | | | |
| 24 | | | | | |
| 24 | | | | | |
| 24 | | | | | |
| 24 | | | | | |
| 28 | | | | | |
| 28 | | | | | |
| 28 | | | | | |
Sobre mim
Seen Live
U2
November 11 2006
- Kanye West
ANZ Stadium, Sydney
Iron Maiden
Febuary 9 2008
- Behind Crimson Eyes
- Lauren Harris
Acer Arena, Sydney
Kiss
March 20 2008
- Vanessa Amarosi
Acer Arena, Sydney
Trivium
May 14 2009
-
Heaven Shall Burn
-
Black Tide
UNSW Roundhouse, Sydney
Bring Me the Horizon
May 16 2009
-
Cancer Bats
-
The Red Shore
UNSW Roundhouse, Sydney
World Painted Blood and Endgame
Slayer & Megadeth
October 8 2009
- Double Dragon
Horden Pavillion, Sydney
Black Ice World Tour
AC/DC
February 18 2010
- Wolfmother
- Calling All Cars
ANZ Stadium, Sydney
I only went to see Gallows
AFI
February 23 2010
-
Gallows
Big Top, Luna Park, Sydney
Heligoland World Tour
Massive Attack
March 16 2010
-
Martina Topley Bird
Sydney Opera House forecourt
Death Magnetic World Tour
Metallica
November 11 2010
-
Lamb of God
-
Baroness
Acer Arena, Sydney
Final Frontier World Tour
Iron Maiden
February 24 2011 (My fucking birthday!!!)
-
Rise To Remain
Sydney Entertainment Centre
SOUNDWAVE 2011
Iron Maiden
February 27 2011
-
Slash
-
Murderdolls
-
Bullet for My Valentine
-
Rise To Remain
-
The Sword
Sydney Olympic Park
Parklife 2011
I saw just about everyone because I photographed the event!
Check out my photos here!
Kippax Lake, Moore Park, Sydney
Blaze Bayley
&
Paul Di'anno
November 20 2012
- Hazmat
There was some other band performing but I didn't see them because I was hanging out with Paul & Blaze backstage getting shit signed!
Manning Bar
SOUNDWAVE 2013
Metallica
February 24 2013 (My fucking birthday!!!... Again!)
-
Ghost
-
Slayer
-
The Sword
-
Bullet for My Valentine
-
Anthrax
Sydney Olympic Park
Black Sabbath
April 27 2013
Allphones Arena, Sydney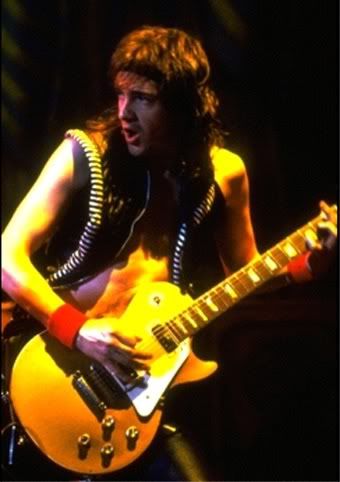 Iron Maiden
Atividade recente