"Zed's dead, baby. Zed's dead." , 25, Masculino, Polônia
4chan.org/b/Última visita: Quinta à noite
4

1

2

6

1

execuções desde 10 Mar 2011

Feeds
| | | | | |
| --- | --- | --- | --- | --- |
| 1 | | | | |
| 2 | | | | |
| 3 | | | | |
| 4 | | | | |
| 5 | | | | |
| 6 | | | | |
| 7 | | | | |
| 8 | | | | |
| 9 | | | | |
| 10 | | | | |
| 11 | | | | |
| 12 | | | | |
| 13 | | | | |
| 14 | | | | |
| 15 | | | | |
| 16 | | | | |
| 17 | | | | |
| 18 | | | | |
| 19 | | | | |
| 19 | | | | |

Feeds
| | | | | | |
| --- | --- | --- | --- | --- | --- |
| 1 | | | | | |
| 1 | | | | | |
| 3 | | | | | |
| 4 | | | | | |
| 5 | | | | | |
| 6 | | | | | |
| 6 | | | | | |
| 8 | | | | | |
| 8 | | | | | |
| 10 | | | | | |
| 10 | | | | | |
| 10 | | | | | |
| 13 | | | | | |
| 14 | | | | | |
| 14 | | | | | |
| 16 | | | | | |
| 17 | | | | | |
| 17 | | | | | |
| 17 | | | | | |
| 20 | | | | | |
| 20 | | | | | |
| 20 | | | | | |
| 20 | | | | | |
| 20 | | | | | |
| 25 | | | | | |
| 25 | | | | | |
| 25 | | | | | |
| 25 | | | | | |
| 25 | | | | | |
| 25 | | | | | |
Sobre mim
!!pls, if yuo aer byo and a i dno't konw yuo, pls dno't sned me an invitatino ;_; !!
"Dovahkiin, Dovahkiin,
Naal ok zin los vahriin
wah dein vokul mahfaeraak ahst vaal
ahrk fin norok paal graan
fod nust hon zindro zaan
fah hin kogaan mu draal
ahrk fin kel l ost prodahdo ved viing ko fin krah
tol fod zeymah win kein meyz fundein
Alduin feyn do jun
kruziik vokun staadnau
voth aan bahlok wah diivon fin lein"
"
Dragonborn Dragonborn
By his honor is sworn
To keep evil forever at bay
And the fiercest foes rout
When they hear triumph's shout
Dragonborn for your blessing we pray
Hidden Meaning [What it sounds like]
For the king, Dovahkiin!
For the sake of Skyrim!
For our land! For our home!
For the High Hrothgar's blood!
For the Nords! For the Gods!
For the sole single son
Dovahkiin, our king,
who will dawn with fire!
"
"And who are you, the proud lord said,
that I must bow so low?
Only a cat of a different coat,
that's all the truth I know.
In a coat of gold or a coat of red,
a lion still has claws,
And mine are long and sharp, my lord,
as long and sharp as yours.
And so he spoke, and so he spoke,
that lord of Castamere,
But now the rains weep o'er his hall,
with no one there to hear.
Yes now the rains weep o'er his hall,
and not a soul to hear."
The Rains of Castamere <3 <3 <3
gg: 193113
sudo chmod 777 twoja_stara
http://lubimyczytac.pl/profil/66341/pylaochos
Lubie placki.
Należę do narodowego frontu wyzwolenia szparagów.
Jestem za uwolnieniem krasnali ogrodowych.
"Jeden, by wszystkimi rządzić, jeden, by wszystkie odnaleźć,
Jeden, by wszystkie zgromadzić i w ciemności związać."
"Ash nazg durbatulûk, ash nazg gimbatul,
ash nazg thrakatulûk agh burzum-ishi krimpatul."
which means:
"One ring to rule them all, one ring to find them,
One ring to bring them all and in the darkness bind them."
Black speech of Sauron
"Where is the horse and the rider?
Where is the horn that was blowing?
They have passed like rain on the mountain, like wind in the meadow.
The days have gone down in the West behind the hills into shadow."
King Théoden (Lord Of The Rings - Two Towers)
"Kiedy spada śnieg i wieje biały wiatr, samotny wilk umiera, ale stado przeżyje. Latem jest pora na kłótnie. Zimą natomiast musimy chronić się nawzajem, ogrzewać, dzielić myślami. Dlatego jeśli już musisz nienawidzić, to nienawidź tych, którzy naprawdę mogą nas skrzywdzić."
english v:
"When the snows fall and the white winds
blow, the lone wolf dies, but the pack survives. Summer is the time for squabbles. In
winter, we must protect one another, keep each other warm, share our strengths. So if
you must hate, Arya, hate those who would truly do us harm."
Eddard Stark
I tak sie wlasnie konczy swiat
nie hukiem, ni skomleniem
lecz szumem belkotu slepcow
zapomnialych swego upadku
Oto krew swiata, strumienie Ichor
Strugi cieplej sliny na pyskach Hylikos
Oto istota kielicha z Mateusza
Ksztalty bez formy, cienie bez barwy
Slowa bez znaczen, mozlwiosci bez celu
Promieniejace zycie
Eng:
And that is how the world ends
Not with clatter, nor with whining
But with the murmurous stammering of the blind
Forgetful of their own fall
This is the blood of the world, streams of ichor
Brooks of the warm saliva on the mouths of hylikos
This is the substance of the chalice of Mathew
Shapes without form, shadows without colour
Words without meaning, potentiality without purpose
Radiating life
Mgła - Further Down The Nest II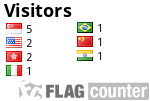 Atividade recente