Feeds

Feeds
| | | | | | |
| --- | --- | --- | --- | --- | --- |
| 1 | | | | | |
| 2 | | | | | |
| 2 | | | | | |
| 2 | | | | | |
| 2 | | | | | |
| 2 | | | | | |
| 2 | | | | | |
| 2 | | | | | |
| 9 | | | | | |
| 9 | | | | | |
Sobre mim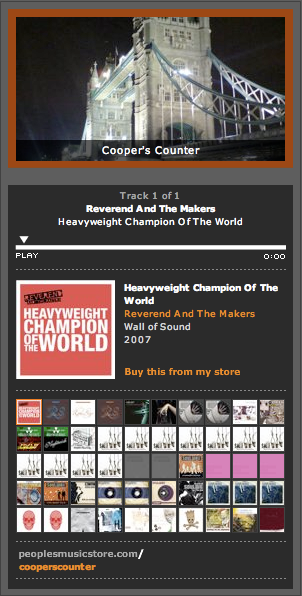 Ever dreamt of owning your own record store? Well now you can for

free

!



PEOPLESMUSICSTORE.COM

is a place where music lovers can open and run their very own download store.

As a 'storekeeper' you're in total control of your virtual store, from deciding what music to stock (from our licensed catalogue), to writing reviews and designing how your store looks.

For every product bought in your store,

YOU

, the storekeeper,

earn points that can be redeemed on the site in exchange for music which is all legal

. Love music, sell music, earn music – simple and brilliant!
As Ged Day, the site founder, said:

"People's Music Store is powered by fans. They're the experts. Their word of mouth recommendation has been selling music for decades and now there's a way for them to showcase this online. No more computer generated recommendations and faceless corporate reviews, People's Music Store offers an authentic and personal way to discover and buy music. And for fans, I think the incentive of the reward will also address the 'peer to peer' issue, by enabling 'peers' to advocate legitimacy themselves."
Join us for free now !

Create your store
-------------------------------------------------------------------------------------------------------------------------------
If you are an artist or a label, we are always looking for new music. If you are interested then please get in touch here:


labels[at]peoplesmusicstore.com



If you have any questions or feedback about the site then please email us:

info[at]peoplesmusicstore.com



Join us on Twitter / Facebook / Myspace
-------------------------------------------------------------------------------------------------------------------------------------------------------------