Katy, 17, Feminino, Estados UnidosÚltima visita: ontem de manhã
1

5

8

8

4

execuções desde 1 Jun 2011
| | | | | | |
| --- | --- | --- | --- | --- | --- |
| | | Neil Young – There's a World | | | 17 Dez 14h58 |
| | | Woody Guthrie – I Ain't Got No Home In This World Anymore | | | 17 Dez 14h55 |
| | | Bob Dylan – Knockin' on Heaven's Door | | | 17 Dez 14h53 |
| | | Bob Dylan – With God On Our Side - Live | | | 8 Dez 21h33 |
| | | Bob Dylan – Silver Dagger - Live Album Version | | | 8 Dez 21h28 |
| | | Donovan – Universal Soldier | | | 8 Dez 21h23 |
| | | My Chemical Romance – Famous Last Words | | | 8 Dez 21h17 |
| | | Heart – Barracuda | | | 8 Dez 21h10 |
| | | Muse – Starlight | | | 4 Dez 5h02 |
| | | Emerson Hart – Flyin' | | | 4 Dez 4h58 |
Ver mais

Feeds
| | | | | |
| --- | --- | --- | --- | --- |
| 1 | | | | |
| 2 | | | | |
| 3 | | | | |
| 4 | | | | |
| 5 | | | | |
| 6 | | | | |
| 7 | | | | |
| 8 | | | | |
| 9 | | | | |
| 10 | | | | |
| 11 | | | | |
| 12 | | | | |
| 13 | | | | |
| 14 | | | | |
| 15 | | | | |
| 16 | | | | |
| 17 | | | | |
| 18 | | | | |
| 19 | | | | |
| 20 | | | | |

Feeds
| | | | | | |
| --- | --- | --- | --- | --- | --- |
| 1 | | | | | |
| 2 | | | | | |
| 3 | | | | | |
| 3 | | | | | |
| 5 | | | | | |
| 5 | | | | | |
| 7 | | | | | |
| 8 | | | | | |
| 8 | | | | | |
| 10 | | | | | |
| 10 | | | | | |
| 12 | | | | | |
| 12 | | | | | |
| 12 | | | | | |
| 12 | | | | | |
Sobre mim
Hello!
I'm Katy. Welcome to my page!
First of all, if you really, honestly want to get to know me, this isn't the place for it. Check out my
Tumblr
. For the sake of being personable, though, I'll write a little about my interests.
Anyway, I'm currently a student at an all-girls Catholic high school in Baltimore, Maryland, where I've lived my entire life up to this point.
I'm essentially an INFP poster child. Yeah, I'm super-interested in MBTI, psychology, and the like. I have an uncanny fascination with the Columbine Massacre and serial killers like Dahmer. I want to be a criminologist.
I've been Catholic my whole life, and I really love it. Jesus is kinda-sorta my whole life. ♥ I have friends from all walks of life, though, and I'll accept anyone --- as long as they have the same courtesy for my beliefs.
I listen to a ludicrous amount of music. Honestly, I don't know how I'd survive without Spotify, Last.fm, PureVolume, and all of the other music sites I use. My taste largely revolves around Bob Dylan and his stellar talent. His music is just so perfectly raw. :)
I'm one of those kids who watch way too many movies. I really like nearly all genres. Some of my all-time favorite films are Donnie Darko, Labyrinth, Franco Zeffirelli's Romeo & Juliet, Tuck Everlasting, Pulp Fiction, The Last Unicorn, Interview with the Vampire, The Goonies, Howl's Moving Castle, Spirited Away, Zero Day, and A.I.: Artificial Intelligence.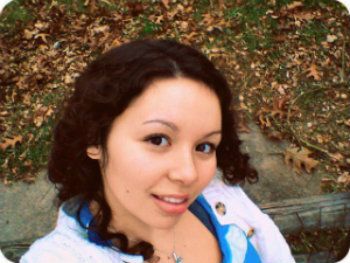 Atividade recente