Feminino, Japão
www.last.fm/user/emicomÚltima visita: 9 minutos atrás
3

0

9

9

8

5

execuções desde 26 Nov 2006
4.651 Faixas preferidas | 8 Posts | 280 Listas |

959 mensagens

Fazendo o scrobble agora -
Last.fm scrobbler for web
Ver mais

Feeds
| | | | | |
| --- | --- | --- | --- | --- |
| 1 | | | | |
| 2 | | | | |
| 3 | | | | |
| 4 | | | | |
| 5 | | | | |
| 6 | | | | |
| 7 | | | | |
| 8 | | | | |
| 9 | | | | |
| 10 | | | | |
| 10 | | | | |
| 12 | | | | |
| 13 | | | | |
| 14 | | | | |
| 15 | | | | |
| 16 | | | | |
| 17 | | | | |
| 18 | | | | |
| 19 | | | | |
| 20 | | | | |
| 21 | | | | |
| 22 | | | | |
| 23 | | | | |
| 24 | | | | |
| 25 | | | | |
| 26 | | | | |
| 27 | | | | |
| 28 | | | | |
| 29 | | | | |
| 29 | | | | |
| 31 | | | | |
| 32 | | | | |
| 32 | | | | |
| 34 | | | | |
| 34 | | | | |
| 36 | | | | |
| 37 | | | | |
| 38 | | | | |
| 39 | | | | |
| 40 | | | | |
| 41 | | | | |
| 42 | | | | |
| 42 | | | | |
| 44 | | | | |
| 44 | | | | |
| 46 | | | | |
| 46 | | | | |
| 48 | | | | |
| 48 | | | | |
| 50 | | | | |

Feeds
| | | | | | |
| --- | --- | --- | --- | --- | --- |
| 1 | | | | | |
| 2 | | | | | |
| 3 | | | | | |
| 4 | | | | | |
| 5 | | | | | |
| 6 | | | | | |
| 6 | | | | | |
| 8 | | | | | |
| 8 | | | | | |
| 10 | | | | | |
| 10 | | | | | |
| 12 | | | | | |
| 12 | | | | | |
| 12 | | | | | |
| 12 | | | | | |
| 12 | | | | | |
| 17 | | | | | |
| 17 | | | | | |
| 17 | | | | | |
| 17 | | | | | |
| 17 | | | | | |
| 17 | | | | | |
| 17 | | | | | |
| 17 | | | | | |
| 17 | | | | | |
| 17 | | | | | |
| 27 | | | | | |
| 27 | | | | | |
| 27 | | | | | |
| 27 | | | | | |
| 27 | | | | | |
| 27 | | | | | |
| 27 | | | | | |
| 27 | | | | | |
| 27 | | | | | |
| 27 | | | | | |
| 27 | | | | | |
| 27 | | | | | |
| 27 | | | | | |
| 27 | | | | | |
| 27 | | | | | |
| 27 | | | | | |
| 27 | | | | | |
| 44 | | | | | |
| 44 | | | | | |
| 44 | | | | | |
| 44 | | | | | |
| 44 | | | | | |
| 44 | | | | | |
| 44 | | | | | |
Sobre mim
http://www.last.fm/user/emicom/journal/2013/12/28/5zh1hv_2013_-_events
I embrace my desire to
feel the rhythm, to feel connected
enough to step aside and weep like a widow
to feel inspired, to fathom the power,
to witness the beauty, to bathe in the fountain,
to swing on the spiral
of our divinity and still be a human.
(words from Lateralus/TOOL)
my myspace page:
http://www.myspace.com/emicom6o6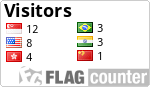 counting since Jan. 16, 2009
往く者は追わず、来る者は拒まず。 (孟子)
"Those who come are welcome, those who leave are not regretted."by Mencius
でも、フレリクする時はシャウトかメールくださいね。
Why my iPod scrobble multiple times???? x8 No solution!? NOOOOOO!!!!!!
Now, my iPod never scrobbles.....
http://www.last.fm/forum/34905/_/415563/2
emicom's top albums
1. Tool - Ænima (2886)
2. Tool - 10,000 Days (1561)
3. Tool - Lateralus (1532)
4. Ulver - Perdition City (632)
5. Tool - Undertow (583)
6. Torche - Meanderthal -Japanese Edition- (572)
7. Machine Head - The Blackening (390)
8. Torche - Torche (303)
9. Tool - Opiate (293)
10. Machine Head - Burn My Eyes (245)
10000
:
Bloc Party
-
Like Eating Glass
20000
:
Green Day
-
Chump
30000
:
Deicide
-
Immanent Doom
40000
:
dredg
-
Triangle
50000
:
Primus
-
Over The Electric Grapevine
60000
:
Midnight Juggernauts
-
Aurora
70000
:
Avenged Sevenfold
-
Desecrate Through Reverence
80000
:
Atlantis
-
Losing You
90000
:
Yawning Man
-
Sonny Bono Memorial Freeway
100000
:
Tool
-
Forty Six & 2
110000
:
Terra Firma
-
Steel Scale
120000
:
Spiritual Beggars
-
Angel of Betrayal
gotcha by
anniversary tracks grabber
http://howite.org/tools/lfg/
update my seen-live-list
|
get your own list