John, Masculino, Estados UnidosÚltima visita: 8 horas atrás
3

4

4

5

4

execuções desde 2 Jan 2011
17.811 Faixas preferidas | 1.442 Posts | 1 Lista |

549 mensagens
| | | | | | |
| --- | --- | --- | --- | --- | --- |
| | | The Underground Youth – ride | | | 19 Ago 2h34 |
| | | The Underground Youth – tattoo | | | 19 Ago 2h29 |
| | | The Underground Youth – sonic ostrich | | | 19 Ago 2h26 |
| | | The Underground Youth – underground youth | | | 19 Ago 2h23 |
| | | The Underground Youth – morally barren | | | 19 Ago 2h19 |
| | | The Underground Youth – a band apart | | | 19 Ago 2h17 |
| | | The Underground Youth – Persona | | | 19 Ago 2h13 |
| | | The Underground Youth – Lucid Dreams | | | 19 Ago 2h08 |
| | | The Underground Youth – Before Night Falls | | | 19 Ago 2h05 |
| | | Kanye West – All Of The Lights [Interlude] | | | 19 Ago 2h01 |
| | | Kanye West – Power | | | 19 Ago 2h00 |
| | | Boubacar Traoré – Dundobesse M'Bedouniato | | | 19 Ago 1h51 |
| | | Boubacar Traoré – M'Badeou | | | 19 Ago 1h47 |
| | | Boubacar Traoré – Mouso teke soma ye | | | 19 Ago 1h40 |
| | | Kanye West – Who Will Survive in America | | | 19 Ago 1h33 |
| | | Kanye West – Lost In The World [feat. Bon Iver] | | | 19 Ago 1h31 |
| | | Kanye West – Blame Game [Feat. John Legend] | | | 19 Ago 1h27 |
| | | Kanye West – Hell of a Life | | | 19 Ago 1h19 |
| | | Kanye West – Runaway [Feat. Pusha T] | | | 19 Ago 1h14 |
| | | Kanye West – Devil in a New Dress [Feat. Rick Ross] | | | 19 Ago 1h05 |
Ver mais

Feeds
| | | | | |
| --- | --- | --- | --- | --- |
| 1 | | | | |
| 2 | | | | |
| 3 | | | | |
| 3 | | | | |
| 3 | | | | |
| 6 | | | | |
| 6 | | | | |
| 6 | | | | |
| 9 | | | | |
| 9 | | | | |
| 9 | | | | |
| 12 | | | | |
| 12 | | | | |
| 12 | | | | |
| 15 | | | | |
| 16 | | | | |
| 17 | | | | |
| 17 | | | | |
| 19 | | | | |
| 19 | | | | |
| 19 | | | | |
| 19 | | | | |
| 19 | | | | |
| 19 | | | | |
| 19 | | | | |
| 26 | | | | |
| 26 | | | | |
| 26 | | | | |
| 26 | | | | |
| 26 | | | | |
| 26 | | | | |
| 26 | | | | |
| 26 | | | | |
| 34 | | | | |
| 34 | | | | |
| 34 | | | | |
| 34 | | | | |
| 34 | | | | |
| 39 | | | | |
| 39 | | | | |
| 39 | | | | |
| 39 | | | | |
| 39 | | | | |
| 44 | | | | |
| 44 | | | | |
| 44 | | | | |
| 44 | | | | |
| 44 | | | | |
| 44 | | | | |
| 44 | | | | |

Feeds
| | | | | | |
| --- | --- | --- | --- | --- | --- |
| 1 | | | | | |
| 2 | | | | | |
| 2 | | | | | |
| 2 | | | | | |
| 2 | | | | | |
| 2 | | | | | |
| 2 | | | | | |
| 8 | | | | | |
| 8 | | | | | |
| 8 | | | | | |
| 8 | | | | | |
| 12 | | | | | |
| 12 | | | | | |
| 12 | | | | | |
| 12 | | | | | |
| 12 | | | | | |
| 12 | | | | | |
| 12 | | | | | |
| 12 | | | | | |
| 20 | | | | | |
| 20 | | | | | |
| 20 | | | | | |
| 20 | | | | | |
| 20 | | | | | |
| 20 | | | | | |
| 20 | | | | | |
| 27 | | | | | |
| 27 | | | | | |
| 27 | | | | | |
| 27 | | | | | |
| 27 | | | | | |
| 27 | | | | | |
| 27 | | | | | |
| 27 | | | | | |
| 27 | | | | | |
| 27 | | | | | |
| 27 | | | | | |
| 27 | | | | | |
| 39 | | | | | |
| 39 | | | | | |
| 39 | | | | | |
| 39 | | | | | |
| 39 | | | | | |
| 39 | | | | | |
| 39 | | | | | |
| 39 | | | | | |
| 39 | | | | | |
| 39 | | | | | |
| 39 | | | | | |
| 39 | | | | | |
Sobre mim
About 97% of my plays are

hand-picked

, on the fly. About 3% are randomly generated. Most plays are from my personal archive of over

one million

tracks.
I guess the common theme running through my listening years is that I like swirly, droning modal playing. I like exotic instrumentation. I like texture.. I like sincerity and devotion in the playing. I like a 4/4 rock beat, or alien beats. I like syncopation. I prefer abstract, impressionistic lyrics over wordy ones unless the writer is a real talent. I like exploration and risk taking. I like music that thumbs its nose at convention. I like music from around the world. I like being exposed to new ideas...
I also have my sentimental, gloopy side which means I play my fair share of schmaltz, too. But I try to limit it so that it doesn't mess up my radio station too much...
Except under the most extreme of circumstances, I don't judge people by the music they like. This is what I like; your results may vary.
All 'friendship' requests accepted, even if I don't like ya personally. This is because I am a firm believer in the 'cross-pollinization' of musical ideas that David Crosby has talked about for 40 years... I like most people tho ;-)
Weird Fact About My Listening Habits I Learned After Joining last.fm
I never knew this about myself, but I have very abnormal listening habits... I guess I should have known, but I'm dense that way sometimes. At 18000 last.fm plays, my #50 artist had 83% as many plays as my #1 artist. My #500 artist has 17% as many plays as my #1 artist. These are freakishly high percentages as it turns out, compare them to your own... ;-) Another weird thing is that my top 50 artists only account for about 8% of my total plays, a freakishly low percentage. I guess I'd describe myself as a radically horizontal listener, rather than a rigidly vertical one, if that makes sense...
On "Hearting" Songs
People have asked me why I "heart" so many songs... Three reasons, really. It makes a better playback of my radio station (unhearted songs usually don't come up often), I really do love, like, or want to hear again the songs that I heart (I usually only play stuff I like, or think I *might* like), and also it serves as a way of 'recommending' stuff to people who check out my play history. If you like the artist, you'll probably like the hearted songs...
Songs left unhearted don't necessarily suck. They just didn't grab me the first time. Some get hearted on subsequent plays, others never get that heart, and some get their hearts removed on re-evaluation. It *might* mean the song sucks, but it also could just mean indifference. Or, it means I dozed off when it was on, and missed it.
If you truly have a need to know my most favorite songs, look for the ones I tagged "
Seederman Top Pick
"
About tagging
Generally, I tag every artist I play (I didn't do thus for my first 6 months here). I tag them by genre and decade (always), location (often), instrument (usually in the case of a virtuoso), and also have invented some whimsical tags of my own. Feel free to explore my playlist by genre, if so inclined.
Cloud:
http://www.last.fm/user/Seederman/library/tags
List:
http://www.last.fm/user/Seederman/library/tags?view=list&sortOrder=desc&sortBy=taggedcount
About my journal
Click here
for Seederman's Six Packs, and Seederman's Rock and Pop Reprints
About my radio
I'm happy if anyone wants to give my radio a try. Just be forewarned that it is sometimes a bumpy listen, and that a lot of my favorite songs, if not most, are not hosted at last.fm. So it sounds
a lot
lamer than it should. However, there are a lot of good tracks in there, so if yer looking for new listening ideas, feel free. Comments welcome.
What kind of flower is that?
It is a Datura trumpet, aka Jimson Weed.
More on Datura here
Last 12 months:
Generated on March 29 2013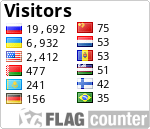 Atividade recente