RSS
Recomendar
Abr 24 2012, 2h14
Review: Joan Osborne
Bring It On Home (2012)
Saguaro Road Records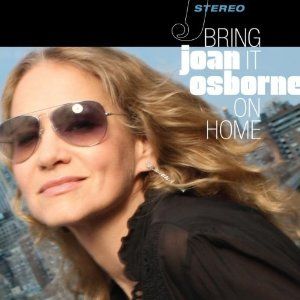 When the track list for
Joan Osborne
's first album in four years appeared and the opening track was the blues/rock standard "I Don't Need No Doctor," I felt both excitement and trepidation. An
Ashford & Simpson
penned tune first done by
Ray Charles
and then taken to another whole level by
Humble Pie
and the legendary voice of
Steve Marriott
on their
Rockin' the Fillmore
LP in 1971, it's a classic worthy of playing at full volume. But similar recent attempts in going back to a blues and R&B sound in the last two years by
Cyndi Lauper
(Memphis) and
Sheryl Crow
(100 Miles from Memphis) fell flat. No need to worry. Osborne goes all the way back to her club singing roots and pulls off a triumph. Her voice smoothly stretches over these soul, R&B and blues cover tunes as her road band lays down a juke joint sound truly worthy of Memphis.
Surpassing even "I Don't Need No Doctor," the standout track is an incendiary cover of
Slim Harpo
's "Shake Your Hips " with Osborne is in full blues/rock chanteuse mode. On the title track, she sounds at her seductive, sultry best and on "Game of Love" she turns the song on it's head as a stand up feminist blues anthem.
This is the album that should break her out of the one-hit wonder mode in public perception, thanks to reaching the top of the charts back in 1995 with the all-pervasive (What if God Was) One of Us. She does bring some pop/adult alternative sensibilities to some of this material, especially on a fun cover of
Allen Toussaint
's reggae number "Shoorah! Shoorah!" Joan Osborne coming back to AAA radio...and a blues club near you soon.
Comentários