RSS
Recomendar
Mar 9 2012, 21h44
(Check this post out on my blog:
http://wp.me/pjWoO-ik
)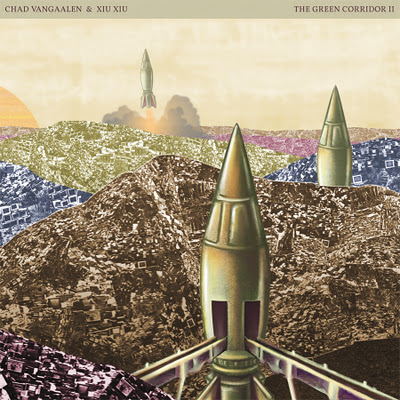 Chad VanGaalen
's
Diaper Island
instantly earned a place on my list of favorite releases of 2011. Prior to that I was a fan of his work as producer/engineer of
Flemish Eye
labelmates
Women
. His brand of rambling, echoed, jangly folk/rock is unique and infectious and perhaps somewhat of an acquired taste. His voice trembles and his guitar playing has all the sloppiness of punk rock, but, for me at least, it's that fiercely unique sound-representative, no doubt, of his equally fierce independence – that draws me in closer.
Apparently Mr. VanGaalen doesn't stop creating. Ever. So I shouldn't have been surprised when I more or less accidentally happened upon this 10-track split EP with the über-arty
Xiu Xiu
, but I definitely was. Coming across this was a welcome surprise. I'm not exactly sure how to get a physical copy of it, though the
Altin Village
website is a good place to start. It appears to be a small European label with a strange variety of re-releases of albums by artists such as
Sonic Youth
,
Deerhoof
,
Owen Pallett
, and
Washed Out
. If you're willing to shell out the Euros then go for it, otherwise check out the
Soundcloud
link to listen to the entire EP.
The 9 VanGaalen tracks are plenty to keep any fan satisfied for some time. From the straight ahead stomp of "
I Want You Back
" the strangely poppy scratch and jangle of "
Kiss Kiss Kiss
" the buzzsaw thrash of "
Nothing Is Impossible
" and the lazy country drawl of "
Weighed Sin
" this isn't a set of 9 throw away tracks haphazardly tossed off for some strange release, this is a collection of songs that showcases VanGaalen's dynamic, unique and wide ranging sound, and then tacks on a
Xiu Xiu
track that should be ignored, making it easy for you, the listener: no flipping the record required. Release of the split EP is set for March 17, but you can stream the entire thing right now
over here
, and grab "
Weighed Sin
".
The video below is taken from a live session VanGaalen did in Quebec for
Stereo-Sequence
, recorded on October 24, 2011. How one man can command such presence with his voice and simple, quiet guitar, is a sight to behold. Truly captivating.
Connect with Chad VanGaalen //
Facebook
|
Bandcamp
|
Web
Check out the video on Vimeo here:
http://vimeo.com/36617918
Envios aceitos
People with no social lives that listen to more music than is healthy who are…
,
Extensive Musical Taste
,
For those who don't sleep enough due to staying up late at night for no apparent…
,
Addicted to Last.fm
,
Tumblr
,
True Listener
,
Lo-Fi music
,
When I Get Bored I Stare At My Last.fm Charts
,
guitar players
,
The Indie Bicycle
,
Indie Canada
,
1981 born
,
Music Bloggers
,
HIPSTER RUNOFF
,
The Kids In The Hall