RSS
Recomendar
Out 5 2007, 16h44
Sat 29 Sep – Dream Theater
Before the show
DTNorway
(the official Norwegian Dream Theater fanclub) had a pre-party in Oslo Spectrum. Nice to meet the people you "talk" to every day on the forum! The fanclub had been given 21 backstage-passes for a meet-and-greet with the band, and I was one of the lucky ones that won!
When
Symphony X
started to play, we were led down backstage (downstage??), and after a few minutes the band arrived. We then took photos with the band, before a small signing-session took place.
Backstage with Dream Theater. Me in front of Mike Portnoy: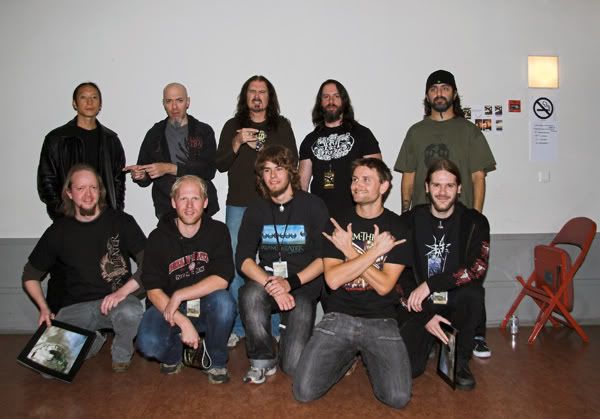 I got my "Chaos in Motion" tour-book signed by the whole band, and got the chance to say hi and shake hands with all the members of the band. Extremely cool!
Tour-book signed by the band: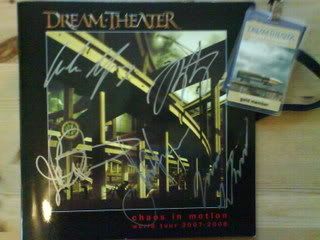 After the meet-and-greet it was back to the show, and I got to see the last two songs of Symphony X.
Then it was time for Dream Theater. Nothing much to say really... It is Dream Theater, and it was great as always! Very nice light-show this time, but other than that it was much like the other shows I've seen (except the new songs of course).
This was my fifth DT-show, and I will be back next time they visit Norway as well!
Setlist Symphony X:
(
Oculus Ex Inferni
)
Set The World On Fire
Domination
Serpent's Kiss
Paradise Lost
Inferno (unleash The Fire)
Sea Of Lies
Of Sins And Shadows
Setlist Dream Theater:
(Intro Video / 2007: An Ant Odyssey)
In The Presence of Enemies
Strange Deja Vu
Blind Faith
Surrounded '07
Constant Motion
The Dark Eternal Night
Keyboard Solo
/
Lines in the Sand
I Walk Beside You
Take the Time
Encore:
The Ministry Of Lost Souls
Medley:
I.
Trial of Tears
II.
Finally Free
III.
Learning to Live
IV.
In The Name Of God
V.
Octavarium
Comentários