Feeds
| | | | | |
| --- | --- | --- | --- | --- |
| 1 | | | | |
| 2 | | | | |
| 3 | | | | |
| 4 | | | | |
| 5 | | | | |
| 6 | | | | |
| 7 | | | | |
| 8 | | | | |
| 9 | | | | |
| 10 | | | | |
| 11 | | | | |
| 12 | | | | |
| 13 | | | | |
| 14 | | | | |
| 15 | | | | |
| 16 | | | | |
| 17 | | | | |
| 18 | | | | |
| 19 | | | | |
| 20 | | | | |
| 21 | | | | |
| 22 | | | | |
| 23 | | | | |
| 24 | | | | |
| 24 | | | | |
| 26 | | | | |
| 26 | | | | |
| 28 | | | | |
| 29 | | | | |
| 30 | | | | |

Feeds
| | | | | | |
| --- | --- | --- | --- | --- | --- |
| 1 | | | | | |
| 2 | | | | | |
| 3 | | | | | |
| 4 | | | | | |
| 5 | | | | | |
| 6 | | | | | |
| 7 | | | | | |
| 8 | | | | | |
| 9 | | | | | |
| 10 | | | | | |
| 11 | | | | | |
| 12 | | | | | |
| 13 | | | | | |
| 14 | | | | | |
| 15 | | | | | |
| 16 | | | | | |
| 17 | | | | | |
| 17 | | | | | |
| 19 | | | | | |
| 20 | | | | | |
| 21 | | | | | |
| 22 | | | | | |
| 23 | | | | | |
| 23 | | | | | |
| 25 | | | | | |
| 25 | | | | | |
| 27 | | | | | |
| 28 | | | | | |
| 28 | | | | | |
| 30 | | | | | |
Sobre mim
Current Favourite song:
Anthonio - Annie
Hai. My pre-LastFM scrobbles were imported from my computer which I got in December 2007, so I lost a few years worth of scrobbles due to not discovering this site earlier (especially my 50s/60s phase which lasted from 2005-2007 when I moved on to the 80s).
Anywho, I rarely like more than a handful of songs from an artist, so I don't really listen to albums or have many favourite bands. I just like random songs from all over the place.
Disorder | Rating
Paranoid: High
Schizoid: High
Schizotypal: Moderate
Antisocial: Low
Borderline: Low
Histrionic: Low
Narcissistic: High
Avoidant: High
Dependent: Low
Obsessive-Compulsive: High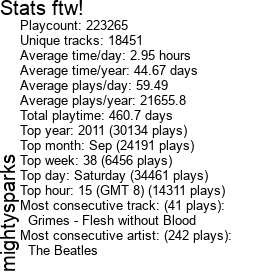 Atividade recente