RSS
Recomendar
Jan 26 2009, 21h06
In an attempt to listen to more music, I've decided to try and do album reviews, and I'll try and do one once a month. Maybe it'll help you, my lovely readers, and introduce you to something new as well. Suggestions are always welcome as well!!!
For my first review, I'm going to do my favorite album to date.
Blackbird
by
Alter Bridge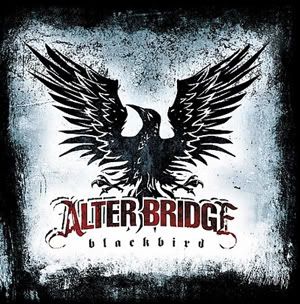 To be completely honest, I wasn't too impressed with the album the first time through. Not that I thought it was bad. Just nothing really stood out to me with the exception of a few songs. The first track,
Ties That Bind
" really pulled me in. It was basically like "Hey, I'm gonna kick your ass with my guitar." The ending solo, though short, ends the song on a proper note.
It wasn't until after a few listens that the album started to grow on me. What I really enjoyed was the presence of guitar solos, and really good ones at that. You don't get them all that much anymore.
Anyway, the album starts out with "
Ties That Bind
" and continues with a heavy rockin' sound in "
Come To Life
." They take it a notch down with "
Brand New Start
" then bring it back up with "
Buried Alive
" (which, might I add, begins and ends with solos. Giggity). The next few songs are "
Coming Home
", "
Before Tomorrow Comes
", and "
Rise Today
." "
Coming Home
" is a personal favorite of mine lyrically. My favorite line is:
We've come to find
What we take for granted
Keeps us alive
In the end
So don't let time
Leave you empty handed
Reach out tonight
And make amends
Other notable tracks include "
Watch Over You
", "
White Knuckles
", and "
Wayward One
". "
Watch Over You
" is pretty much an acoustic song, and you may have heard it on VH1, more specifically on the Top 20 Countdown or Celebrity Rehab 2. Its quite beautiful, actually, and strays away from the rest of the album in terms of sound, but still fits. "
White Knuckles
" pretty much grabs you by the balls, lyrically and musically. In simple terms, the song is about doing what you want and not selling out. At least that's what it means to me. "
Wayward One
" brings it down a notch, but ends the album on a good note and a great guitar solo. Solos are important to me, if you haven't noticed by now.
There are three tracks that I have yet to talk about. "
One By One
" and "
Break Me Down
" really never caught on to me, although "
One By One
" has kinda caught my attention recently. Then there's the title track, "
Blackbird
". I would have to consider it one of the best songs written in the past few years, or possibly the past decade. To better explain, for those who are fans of classic rock (
Led Zeppelin
more specifically), it's like a modern "
Stairway to Heaven
". Being at 8 minutes, its the same length as "Stairway". The song itself is influenced by The Beatles song of the same name. What I love about this track is that, not only does it have emotion you don't really find in rock songs today, but the fact that its 8 minutes, and it never feels like it. The song progression is great, starting off slow, building up, coming to a break, two solos, the ending chorus, then bringing it all down to the ending verse.
To sum it up, I love this album. It's been more than a year since its release, and I still listen to it constantly. Myles Kennedy (vocals, rhythm guitar) and Mark Tremonti (lead guitar) really compliment each other with their playing styles, where Mark has the hard rock while Myles brings in a bluesy sound (which can be heard in "
Blackbird
"). The thing I love about this band is that there doesn't seem to be only one person doing all the work. They do it as a group and they really seem to love doing what they're doing. In my opinion, although great, I feel like there's something missing from this album. I don't know what. They seem like they're trying to find their own, unique sound. I'm looking forward to their next album, though, whenever it comes out.
Final Verdict: 5/5
P.S. - This sounds nothing like
Creed
! Also, if you purchase the album from Best Buy, you might be able to get the two bonus tracks, "
The Damage Done
" and "
New Way To Live
", which are both fantastic. I don't understand why they're only bonus tracks. On the other hand, if you live in the UK, you can probably get the bonus track "
We Don't Care At All
", which really hasn't attracted me so much, but it does have a decent guitar solo.
Comentários