RSS
Recomendar
Ago 31 2006, 19h53
The next chapter of my series of
Coil
reviews.
Since this one is about
Love's Secret Domain
, and there is quite a bit to be said about this album I can imagine people looking forward to this one ;)
Released in 1991 (finally...) this was the first new Coil-release in 4 years.
1991. The year of
Plague Mass
, which happens to be one of the most impressive live-performances I ever heard. the same year of
TYRANNY >FOR YOU<
, and the same year
Japan
did a non-comeback as
Rain Tree Crow
. Oh, and, as Wikipedia kindly reminds me, it is the year that the world discovered Seattle and thus grunge. Never really liked it.
1991 was the year I went back to give school another try after a few years of work. A hard time, being used to have quite a bit of money, I suddenly became an continously broke student. No fun...
The world was sort of shocked that year by IRA-attacks on London, the continuing (and 'ending') of the first Gulf-war, the beating of a R. King in LA and the independence of Latvia, lithuania and Estonia (and a number of other former Soviet states). Yoguslavia sees her last days as a country and one by one former states declare their independence. A world in motion...
It was the year of the very first internet (or world wide web)-like network, and the first time ever that the superNES can be bought. This is also the year that there is something of a mentioning of the first Linux Kernel. 1991 was the year of
Freddie Mercury
untimely demise. He died due to the complications that came with HIV/AIDS.
I guess that is about enough history. We have a bit of an image again of the first year of the nineties. Let me go on with the album itself...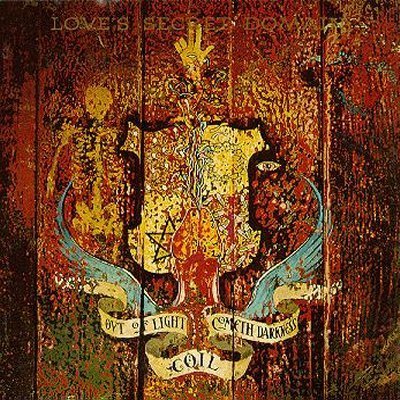 Track list:
[ 1] Disco Hospital
[ 2] Teenage Lightning 1
[ 3] Things Happen
[ 4] The Snow
[ 5] Dark River
[ 6] Where Even the Darkness is Something to See
[ 7] Teenage Lightning 2
[ 8] Windowpane
[ 9] Further Back and Faster
[10] Titan Arch
[11] Chaostrophy
[12] Lorca Not Orca
[13] Love's Secret Domain
Lasting about an hour, this is Coil's first album containing new work in the five years since "Horse Rotorvator". Quite a bit has happened to the band. Stephen Thrower (later of
Cyclobe
has joined the band (only to leave just after the next album), John adopted a fascination with 'sidereal sound' (if anyone is capable of doing some understandable explahation, be my guest) and dance-music had managed to get a grip (which it hasn't lost until today). A lot of this and more is to heard on the album. The list of people who lent a hand to complete LSD is impressive. As you can see, the association with drugs is quite clear too.
'Love's Secret Domain' is the first album of a 'new' Coil. Gone (but not forgotten) is the industrial sound of the early years. It has been replaced by something new... More melody perhaps, more difference... not really. The musick is turning into an onion. Layer upon layer upon layer, sometimes easy and loud, at other times thin and eerie. I recall reading (or hearing) somewhere 'round the time LSD was released that almost every second of recorded sound was used in this album.
This is an album to listen to. With that I mean that it is very easy to turn it on and do the dishes, but that is NOT a good idea. Have a drink, open a window, look at the moon and play LSD. That is the listening that is meant. Try and hear every sound used. Hear the musick fill every dark corner of your room, of your head. LSD can surround you, wash over you.
In the track by track part you will notice that there is a lot to be said about the various songs here. Every track is different in mood, sound.
Whilst being a very coherent album overall, most of the tracks stand by themselves. There is less overflow as on earlier albums. In the end you find, however, that your trip has taken you back where you started, slightly breathless and shook up.
Perhaps this is the best moment to get along with my writing and start reviewing all the tracks, one by one.
[ 1]
Disco Hospital
A strange disco-esque track.
Voice is distorted, disturbed and mutilated. There are sounds that can be called human voice, but these are mere sounds. After a 'vocal' intro there is an
almost
dancable beat. Just when you get into that, it is over. The 'vocals' take over, and almost seamless we get into...
[ 2]
Teenage Lightning 1
The lyrics here are again more sound then voice, but more to be understood. First impression of the track is: "it is too short, I can not find out what is happening". We'll get back to it, luckily.
[ 3]
Things Happen
Annie Anxiety
has been sharing more then one drink with John. Kind of drunk she stumbles her way through the lyrics.
This is one of the tracks that shows you a little bit more, every time you listen to it. The whole album is like an onion, layer upon layer, but (to me) this is one of the most prominent tracks to show that.
[ 4]
The Snow
Enter... dance!!
Some sort of underground-dance hit for Coil. Yep, you read it... I used the word "hit". Never in the charts, but none the less, I could fill a floor with it. This track is just
one
of the reasons everybody will always tell you that 'Love's Secret Domain' is such a special Coil-album. This track breaks with tradition that Coil is difficult. Coil is groovey, danceable, hip and almost easy. More about "the Snow" in a later review...
[ 5]
Dark River
This track is a one of the darker tracks of the album. Lots of bass, with an almost dancing melody over it. However, the two seem totally unaware of eachother. The moments they get together are almost incidental. Undanceable, because there is no beat, just a very faint snare. In my opinion this is one of the earlier tracks of the album, partly because it is included on the pre-release demo (
Love's Secret Demise
)
[ 6]
Where Even the Darkness Is Something to See
First thing you hear is a didgeridoo, and then a very, very lazy beat. Once again, just
under
the threshold of your hearing there is something with voices. I never can stop looking in this darkness...
[ 7]
Teenage Lightning 2
In the rebound... "this is what you get when you rub two teenagers together..." as Jhonn said on
Selvaggina, Go Back into the Woods
.
Once again a danceable track, although the rhythm is hard to keep. It is just off. And the track can feel monotone at first. Later recordings prove that this track has loads more substance then you think by hearing it the first time. To be honest, I missed the acoustic guitar the first few times (listen closely, at around three and a half minutes...)
[ 8]
Windowpane
The [other] single. Never as 'big' as "the Snow", but worth a listen, at least twice. I will spent more time and attention to this track in a later review.
[ 9]
Further Back and Faster
This is just a trip into relax-mode... at least... to me.
[10]
Titan Arch
Another borrowed singer.
Marc Almond
may sing the lyrics to this one. Don't get me wrong, I like Marc, but almost every track he sings is sort of bend around him. The way the tracks on this album vary, both in soundcolor as in speed, and tone makes it so interresting. And so f***ing hard to write about.
[11]
Chaostrophy
Okay... I guess this track, in its many guises is my favourite Coil-track. Here we get it as "Chaostrophy" while it is featured on other albums (official and unofficial) as
Original Chaostrophy
,
Pre-original Chaostrophy
and
Chaostrophy (demo)
. All a bit different.
This one is like looking for "Original Chaostrophy" (as featured on
Stolen and Contaminated Songs
) by using a lot of radios. All mistuned and spitting static. One by one they are tuned into the proper channel. I guess intriguing is the correct word for this track.
[12]
Lorca Not Orca
In a nice try to travel the world, here is the acoustic guitar from "Teenage Lightning" again. To complete the resemblance, this track even uses the lyrics again.
[13]
Love's Secret Domain
And to finish it all, the track that shares it's name with the album.
To my this is one of the most briljant tracks Coil ever made. John's voice and lyrics are perfect with the music. I feel I could use a line like:
In dreams I walk with you...
In dreams I talk with you...
In dreams...
You're mine
All of the time.
to impress a girl. I am afraid it will backfire on me, but I just
love
that line. Then again, I know that my taste of literature is not everybody's.
Biggest problem is the abrupt end...
Retrospectifly I doubt this review will urge anybody to buy the album, but I hope I made you listen again, with a little bit of another view. Enjoy the album...
Previous reviews:
Zos Kia - Transparent
Coil - Scatology
Coil - Horse Rotorvator
Coil - Gold Is The Metal (with the broadest shoulders)
Coil - Unnatural History - Compilation Tracks Compiled
Comentários