Jerry Meandering, 55, Masculino, Estados UnidosÚltima visita: Mês passado
1

5

2

0

9

execuções desde 10 Jul 2008

Feeds
| | | | | |
| --- | --- | --- | --- | --- |
| 1 | | | | |
| 2 | | | | |
| 3 | | | | |
| 4 | | | | |
| 5 | | | | |
| 6 | | | | |
| 6 | | | | |
| 8 | | | | |
| 9 | | | | |
| 10 | | | | |
| 10 | | | | |
| 12 | | | | |
| 12 | | | | |
| 14 | | | | |
| 15 | | | | |
| 16 | | | | |
| 17 | | | | |
| 17 | | | | |
| 17 | | | | |
| 20 | | | | |
| 20 | | | | |
| 22 | | | | |
| 22 | | | | |
| 22 | | | | |
| 25 | | | | |
| 25 | | | | |
| 25 | | | | |
| 28 | | | | |
| 29 | | | | |
| 29 | | | | |

Feeds
| | | | | | |
| --- | --- | --- | --- | --- | --- |
| 1 | | | | | |
| 2 | | | | | |
| 3 | | | | | |
| 4 | | | | | |
| 5 | | | | | |
| 6 | | | | | |
| 7 | | | | | |
| 7 | | | | | |
| 7 | | | | | |
| 7 | | | | | |
| 11 | | | | | |
| 11 | | | | | |
| 11 | | | | | |
| 14 | | | | | |
| 14 | | | | | |
| 16 | | | | | |
| 16 | | | | | |
| 16 | | | | | |
| 16 | | | | | |
| 16 | | | | | |
Sobre mim
Traveling the net, in search of aural revelations around the world ...

MIO VIAGGIO NON SI FERMERA!

...
JerryMeandering !!!
_________
I Love Last.FM! Hi, Friends. Haven't been around for a while. For some reason, about 1&1/2 years ago (2008, after "THE BIG UPGRADE & FORMAT CHANGE" of LFM) I had problems with my profile. The "New and Improved LFM" lost about half of my groups, almost all of my friends, and most of my LFM music Library. Also, I could not play ANY music except short previews (tried on about 10 different computers.) Tried to contact LFM support, but no response.
Fooled around with the new format for a few weeks, then got message I had to subscribe & pay to use LFM!. WTF? So I stopped. Checked in occasionally, but still had same problems.
I moved recently and had a tragic loss. All of my recorded music on hard media (Vinyl, CD's, Reels, Cassettes & even 8 Track Tapes) was destroyed and lost forever. Over 1,500 albums. So I checked back in and miraculously my profile is working again.
Trying to rebuild my Library, Friends & Groups. So if you come looking, please Re-Friend me!
_________
------------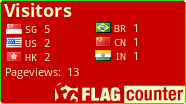 _________
Atividade recente