Ishtar Babilu Dingir, Feminino, Reino Unido
www.ishtarsgate.com/index.…Última visita: maio 2014
2

7

0

9

0

execuções desde 15 Ago 2008
289 Faixas preferidas | 19 Posts | 2 Listas |

2.216 mensagens

Feeds

Feeds
Sobre mim
Shaman, healer and writer, Ishtar is the creator of Ishtar's Gate and the Hanging Gardens of Babylon, which contain writings on Earth mysteries, mythology, philosophy, Mystery teachings, High Magic and shamanism.

She is also the author of Lord of the Dance, a book about life in India with the late Sri Sathya Sai Baba.
THE ENCHANTMENT OF THE LAND AND THE PERPETUAL CHOIRS

With therapist friends of mine waiting to be allowed on to the water-logged Healing Field of the Glastonbury Festival site to set up, I can't help musing whether it's coincidence (unlikely!) that the biggest and most important music event of the year in the world is held at the only location that everyone agrees on for the perpetual choirs.

You may be wondering just who the perpetual choirs are. Well, these singers or chanters were recently brought to mainstream attention again by the late sacred geometrist John Michel. They are the Otherworldly choirs that are reputed to sing in perpetuity, in order to heal or en-chant the Land, and many people have heard them, including yours truly … but more of that later.

The perpetual choirs are first mentioned in a four-line Welsh Triade which was translated in the 18th century by George Ellis, Fellow of the Royal Society and the Society of Antiquaries, and a close friend of Sir Walter Scott:

Three Perpetual Harmonies of the Island of Britain:
One was at the Island of Afallach,
and the second at Caer Garadawg,
and the third at Bangor*.

Affallach is an ancient title for Glastonbury, otherwise known as the Isle of Apples. Caer Garadawg is thought by all to be near Salisbury, either Stonehenge, Old Sarum or Avebury. And 'the third at Bangor' refers to Bangor in north Wales, near Wrexham.


Read more of THE ENCHANTMENT OF THE LAND AND THE PERPETUAL CHOIRS at The Hanging Gardens of Babylon.
Pregnant Anaconda by Pablo Amaringo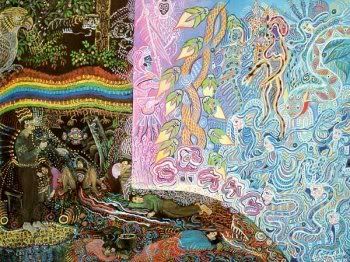 Paintings by Dennis Potokar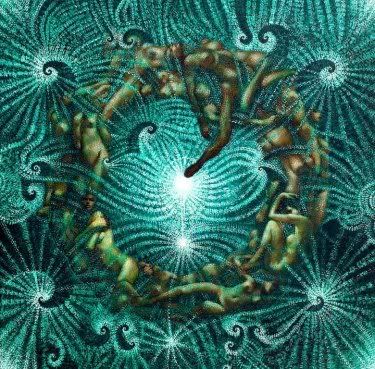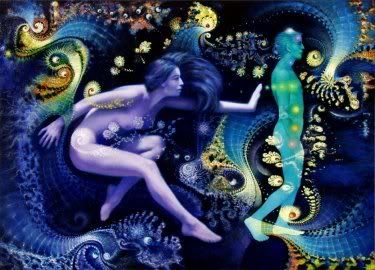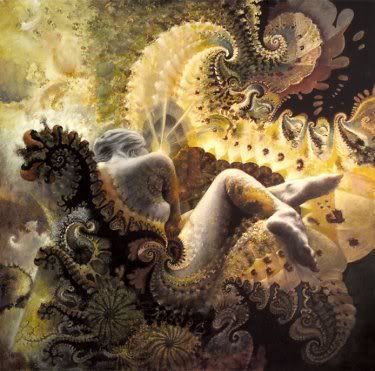 Last.fm