Veronymous, 21, Feminino, Canadá
haldir.tumblr.comÚltima visita: agosto 2013
4

6

8

8

6

execuções desde 5 Out 2007
| | | | | | |
| --- | --- | --- | --- | --- | --- |
| | | Behexen – Canto VI: Canticle (For ye Lord) | | | 13 Out 2012 |
| | | Behexen – Canto VI: Canticle (For ye Lord) | | | 13 Out 2012 |
| | | Behexen – Canto VI: Canticle (For ye Lord) | | | 13 Out 2012 |
| | | Behexen – Canto VI: Canticle (For ye Lord) | | | 13 Out 2012 |
| | | Behexen – Canto VI: Canticle (For ye Lord) | | | 13 Out 2012 |
| | | Behexen – Canto VI: Canticle (For ye Lord) | | | 13 Out 2012 |
| | | Behexen – Canto VI: Canticle (For ye Lord) | | | 13 Out 2012 |
| | | Behexen – Canto VI: Canticle (For ye Lord) | | | 13 Out 2012 |
| | | Behexen – Canto VI: Canticle (For ye Lord) | | | 13 Out 2012 |
| | | Behexen – Canto VI: Canticle (For ye Lord) | | | 13 Out 2012 |
Ver mais

Feeds

Feeds
Sobre mim
I'm Veronica and from Mississauga/ON. I'm 19, but I look like a child, and I'm a half-breed - South American and Asian. I go to a lot of metal shows in Toronto so I'm probably very familiar to others who frequent them, and I probably recognize all of the regulars as well. Feel free to add me if our tastes are compatible. Don't bother sending me a request on Facebook though unless we've actually conversed before and/or you live in the GTA.
I'm pretty much a huge bitch, so don't talk to me if you're going to start an argument because it'll end ugly on your part. Other than that though, if we put controversial topics aside, I am actually very pleasant to talk to and a fantastic friend.
As you can tell by my charts, I used to be a folk metal nut, but I've since broadened my tastes by a long run and I don't listen to too much folk anymore - grew stale for me. Blind Guardian is also probably the only power metal band I listen to... and they happen to be my alltime favourite band. And speaking of BG, I am a massive fan of Tolkien and have read all of his books before. Yes, including the History of Middle-earth and his two newest releases by his son.
So. Enough about me. Send me a message if you're interested in talking about stuff that I give half a fuck about. Have a nice day.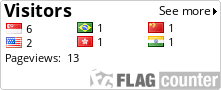 Atividade recente
Agora, Kaarne69 e HaldirOfLorien são amigos.

dezembro 2012