This is a journal I started ages ago and never finished. I thought it was too hilarious to just erase it forever...
***
During the pretty long time I've been listening to music, I observed there are album artworks which are exceptional. Some are exceptionally beautiful (minority), some are exceptionally awkward and some exceptionally boring.
Let me take you for a ride…
Weirdest Artworks in My Library
Aerosmith – Get a Grip (1993)
This part of a cow simply should not be pictured anywhere. Not to mention the piercing. What the hell, Aerosmith?
Ambeon – Fate of a Dreamer (2000)
What on Earth is with those boots…?
Amy Macdonald – A Curious Thing (2010)
Even after those two years I still hate her for staring at me so weirdly.
Ari Koivunen – Becoming (2008)
Look at that! It's creepy!
Astral Tears – Hypnotic (2012)
I think I'm allergic to "people" with eyes in the palms of their hands…
Bebe – Un Pokito de Rocanrol (2012)
Is this... ? Or is it... ? Oh my dog, I hope it's not…
The Cranberries – Bury the Hatchet (1999)
The gigantic eye is just… ew! Big Brother-sorta shit.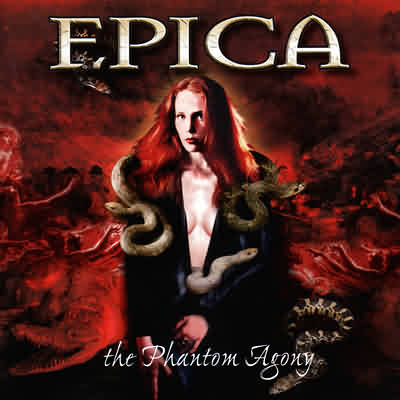 Epica – The Phantom Agony (2003)
Those snakes around her neck I would survive. But what the hell is the one climbing out of her bellybutton? And you know what—I don't even wanna know.
HIM – Screamworks: Love in Theory and Practice (2010)
How many eyes and mouths, please? Somebody tell me because this picture makes my eyes rain.
Operator Please – Yes Yes Vindictive (2007)
To begin with, I have no idea what this is…
Ugliest Artworks in My Library
Angtoria – God Has a Plan for Us All (2006)
I guess it's enough for you to just look at it. I know there are much worse artworks, especially when it comes to death and whatever metal bands but still – this would be a perfect death metal artwork…
Imperia – The Ancient Dance of Qetesh (2004)
Wondering if this is the ugliest artwork ever? Then we have the same problem. And (at least when it comes to FF metal), we might be right…
Omega Lithium – Dreams in Formaline (2009)
Please, Omega, keep flesh on bones next time. I remember how it scared me before playing the album. I was like: "Is this even wroth it?!"
Ebony Ark – Decoder 2.0 (2006)
This face could definitely give me nightmares if it wanted. And my saying this weird thing has to make it evident that I do feel the head has a mind of its own.