Hello to my metal brothers and sisters from around the world, Masculino, Estados UnidosÚltima visita: novembro 2010
5

4

6

8

execuções desde 13 Fev 2010
0 Faixas preferidas | 2.371 Posts | 0 Listas |

1.732 mensagens
Sobre mim
Hello, So this is the section where I'm supposed to tell you about me.
I have been a music fan almost all of my life.I like and appreciate different styles of music ,but I love hard rock/heavy metal,and most of the sub genres it has to offer.I don't like walls. Here is a brief overview of the artists that gave me my love for the world of hard rock/heavy metal.
KISS was my introduction into the heavier side of rock n roll.I love the original KISS of the 70's KISS ALIVE was the first hard rock album I owned given to me by Mother (on vinyl) It was brand new and exciting to me. I had never seen anything like KISS ever.My favorite member was Ace Frehley.
As I was getting more into the heavier side of music I discovered the music of VAN HALEN.Eddie was phenomenal, "Eruption" do I need to say anything more? I love the original VAN HALEN.
My first heavy metal concert I saw and introdution to the big hair 80's scene was none other than MOTLEY CRUE.
Nikki Sixx is amazing, he has been through so much, and he is still standing tall tall \m/ \m/.
I love female fronted bands,but only if I like the voice.I don't just like a band because someone is attractive,that is lame.The music of WARLOCK featuring Doro Pesch was my introdution to how powerful a female can be in the world of hard rock /heavy metal.Doro is MY queen of heavy metal.
As I stated earlier,I love all kinds of music, industrial metal music is kick ass in my opinion
I remember the first time that I heard it,I was like woah!! wait a minuet what is that? It was a song called "Theives" by a band called Ministry Al Jourgensen is amazing.He opened so many doors for so many other bands.
The music of Mike Patton and FAITH NO MORE was also something that I loved and found interesting opening the door to heavy soundling alternative bands like AlICE IN CHAINS and SOUNDGARDEN..
I have to admit that when I first heard of a new style of metal called " thrash" I didnt like it. In fact, I wanted nothing to do with it,I even had a slogan "Throw thrash in the trash"", but after hearing friends play it more and more it grew on me. We would listen to a little band with a BIG sound from Californias Bay Area called METALLICA I love the old school METALLICA I didn't like them once Cliff was tragically killed.
The "new' Metallica wasn't for me.Metallica opened so many doors for bands that I love like SLAYER,and of course MEGADETH
Also, I was very saddened to hear that a METALLICA fan was killed while out with her friends to have fun at a show. She went by herself to use the bathroom,and she wound up outisde the arena and she was not allowed back inside and some how,some way, someone got her and killed her. I never knew her, but she was my metal sister ,and I haven't forgotten her R.I.P. Morgan Harrignton. Gone but not forgotten
Another band that I got into because of METALLICA was the cowboys from hell PANTERA,I still remember the way I felt when I heard the opening riff to "Cowboys From Hell", and the "were taking over this town"I was like wow that is kick ass! It's tragic the way Dime was taken, and there will never be another like him in my opinion.
I will never forget when I heard my first bit of heavy music from South America,it was from Brazil's SEPULTURA. I love the old school SEPULTURA the rhythms and the chanting on ROOTS was phenomenal to me.I was very impressed by it to say the least.I am so happy Max and Igor are back together.
I found out about the world of goth rock through a band from Brooklyn,New York called Type O Negative.I had never heard anything like the song "Black No 1(Little Miss Scare All)" ever,and I quickly fell in love with the song.I thought it reminded me of something,but it wasn't until later that I realized that Black Sabbath's "Black Sabbath" was my first real taste of gothic rock n roll.
I love the music of AC/DC, the band has done great with Brian Johnson, and I do like him,but, I LOVE the old AC/DC with Bon Scott, it sounds so raw, and hungry,and I love that part of the"Thunder From Down Under" the best.
Another band that I LOVE is IRON MAIDEN..How can you not if you are a metal fan? Bruce is the ultimate metal singer in my opinion, and Steve Harris on bass is epic!
And lastly, the band that started what we now know, and love as heavy metal,BLACK SABBATH.BLACK SABBATH are to the world of heavy metal what The Beatles are to rock n roll. Tony Iommi (guitar),and Geezer Butler(bass) wrote so many awesome riffs that its almost impossible to deny The Sabb 4.Without the creativity of this band we may had never heard of heavy metal, almost every sub genre of metal can be traced back to this historic band. All most bow to the mighty BLACK SABBATH\m/ \m/
These are just some of the artists that I love and appreciate,and I do love alot of the bands that are out right now,and I am here to learn,discover, and make new friends.I look forward to meeting hell raisng headbangers from all around the world \m/ \m/. I would like to thank alot of the people that I have on my friends list thus far as they have already introduced me to undiscovered bands that I had no clue about. In my opinion, metal fans are one big world wide family, and Im glad, and honored to be a member of it..
Last.FM Milestones
1st track: (13 Feb 2010)
Leaves' Eyes - Norwegian Lovesong

10th track: (13 Feb 2010)
Leaves' Eyes - Elegy

100th track: (14 Feb 2010)
Trivium - Like Light To The Flies

1000th track: (19 Feb 2010)
Epica - Never Enough

Generated on 19 Feb 2010
Get yours here
Last.FM Milestones




th track: (24 Feb 2010)
Volbeat - Radio Girl

Generated on 27 Feb 2010
Get yours here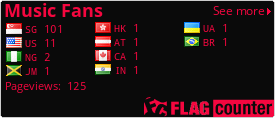 Create your own visitor map!