21, Masculino, Reino Unido
twitter.com/Bumbleb3arÚltima visita: Mês passado
6

1

0

4

6

execuções desde 27 Abr 2010
51 Faixas preferidas | 1.675 Posts | 0 Listas |

101 mensagens

Feeds

Feeds
Sobre mim
Hi there friend,
I live in a city in Scotland called Dundee but work in The Netherlands (sometimes other European countries) as an Engineer so I get plenty of time to listen to my ipod/spotify when I'm travelling which is great for passing the time on planes, trains and automobiles. I am in the process of learning Dutch but with a history if German sometimes things can get mixed up.
I love reading books and use a kindle for when I'm knocking around Europe. I try to read as many genres as possible including non-fiction and have developed a strong liking for podcasts which tend to be science/tech based apart from Radiolab which is themed talk radio episodes, good stuff!
I was in a local band with some friends, before I became a full time engineer, where I played Bass guitar, I haven't played in quite a while but I'm playing again for my own entertainment for now. I love the bass, it is a fantastic instrument that contributes so much without being acknowledged in full.
I'm getting into casual gaming after years of abstinence and have myself a steam account (Bumblebear) and have been playing a handful of really cool games, Bioshocks are my clear favourites at the moment :D I'd love a chat if you are into games because I'm pretty new to the scene ha
I love hearing about new music and books so drop a message and I'll get back soon as :)
My seen live list has become too long for the profile but I've made a journal if you want a nosey
Feel free to add If we have similar tastes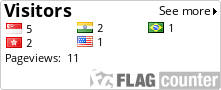 Atividade recente
Seen Live 14 Jul 2011 |

2 comentários

Cannibalistic music 13 Mai 2011 |

3 comentários