RSS
Recomendar
Ago 26 2010, 17h41
Hello everyone! Hope you all had a great summer... Mine was actually pretty hectic to say the least, but a ton of fun! Gig-wise, only managed to see
P!nk
in Ireland with a couple of mates back in June and, whilst it was certainly one of the more professional shows I have yet seen and the pop-rock star certainly does hoof her way around the stage with great momentum (the big highlight being her encore of
So What
, which saw her propelled over the stadium crowd in steel-hoop harness, spinning herself into a dizzying frenzy), the event itself left me a little cold, despite the blazing heat of the sunny weather. Her supports included
Hockey
(who happened to be very good, despite the non-plussed crowd reaction),
Butch Walker
and his Black Widows band (who happened to be quite milquetoast for a hard-rock band, not that the crowd seemed to mind) and Ireland's premier commercial radio DJ (whose name has been banished from my memory forever).
Still, the rest of my stay in Dublin was very nice, as was the rest of the UK that I got to see (special thanks to James for driving me everywhere and congratulations again to Richard and Deborah for their successful holy hitching!) but this is a music-centric blog entry, so on with the show, my friends, as
Miranda Hart
would say...
Dibder's Playlist For Summer/Autumn 201001) Down in the Street Below
by
The Divine Comedy
02) Suburban War
by
Arcade Fire
03) Beverly Kills
by
Ariel Pink's Haunted Graffiti
04) Thirty Incoming
by
The Books
05) You Can Take Your Time
by
Nina Nastasia
06) Departure
by
Baths
07) Carbonated
by
Mount Kimbie
08) Steppin Up
by
M.I.A.
09) Mombasa
by
Hans Zimmer
10) Drive It Like You Stole It
by
The Glitch Mob
11) White Magic
by
Ceo
12) Shades of Marble
by
Trentemøller
13) Heart Is Strange
by
School of Seven Bells
14) Go Do
by
Jónsi
15) Cupid Boy
by
Kylie Minogue
16) Take Care Of Me
by
The-Dream
• • • • •
Frustratingly for many, dear
Neil Hannon
has done little to reconcile his apparently at-odds dual image of both a rakish wit devoted to the observational and slightly surreal and a lovelorn romantic with a classically old soul. Though the man has managed to sustain a career spanning two decades, it is his foray into his funnier side in the 1990s that has held true in most listeners' imaginations, be it his wonderful audio assignments for the still-brilliant
Father Ted
or, most commonly, The Divine Comedy's only Top 10 single,
National Express
(not forgetting my own personal favourite parody of his,
this rather amazing Eurovision pastiche
composed four years ago). However, fans of his are keen to impress upon the passing listener that, ironically, whist Hannon's lyrics are most-often never less than wry and amusing, it is his evident musicality, elegantly tuneful melodies and reverence towards old-school chamber pop arrangements that makes his pieces so delightful and memorable, and that his more serious-minded songs showcase these qualities at their best. And there's plenty of both examples to be found on
Bang Goes The Knighthood
, Hannon tipping his bowler in both directions evenly across the board, but still being nothing less than charming on every example.
So for funnies, we have lead single
At the Indie Disco
, whose out-of-date references regarding awkwardly shuffling to
Blur
,
New Order
and
The Wannadies
are complemented by a sterling string arrangement, utilising a timeless pop sound to help transport those old enough to remember those carefree days. We also have the grandstanding showstopper
Can You Stand Upon One Leg
, featuring Hannon providing an informative and very entertaining three-and-a-half minutes of Comedic Balladry 101 which should surely provide a live highlight for his future shows. Amidst the humorous diversions though, there are some delicate observational gems, such as the opener
Down In The Street Below
, Hannon's evocative depiction of city-life hustle-and-bustle contrasting nicely with his quiet domesticated homelife. And there's
Have You Ever Been In Love
, the album's most successful throwback to easy listening pop of yesterdecade that feels like it's jumped straight out of a movie musical from the 1950s, coated in such self-effacing platitudes alongside such a lightly bright orchestral backing that its deftness of touch disarms you completely. It's all rather wonderful and lovely, really, and further proof that whether he's being funny, sad, both or anything else, Hannon is still one of the finest musicians the United Kingdom has to offer.
The Divine Comedy's Official Site:
http://www.thedivinecomedy.com/
• • • • •
In many ways, Arcade Fire were in a precarious situation this year when the release of their third LP was looming. Since they hit the ground running hard and fast with their still-magnificent 2004 debut
Funeral
, the politically-charged art-rock noiseniks have had plenty of encouraging success that is yet to be marred by even a single misstep. The resulting six years have seen them become one of the few international breakthroughs recently to have enjoyed major mainstream success and recognition whilst still not sacrificing their artistic integrity; 2007's similarly excellent follow-up
Neon Bible
was just as, if not more, successful as its predecessor, and was just as lauded, the band applauded for their incisive commentary on American televangelical hysteria and even more trenchantly melodic social anthems (my heart still skips a beat at the opening of
Keep the Car Running
). The customary accolades and rapturous responses from audiences of festival-goers and concert patrons around the world soon followed (among them three Grammy nominations and a nod for the
Polaris Music Prize
, a sort-of Canadian version of the UK's
Mercury Prize
), whipping up just the right amount of consternation and anticipation as to where the band were heading; were they to fall at the third hurdle, or simply bypass such reservations as they did with the 'sophomore slump' catcalls that never were for
Bible
?
Well, on the evidence of the work constituting their third album, it would appear that Arcade are ready to take over the world, with
The Suburbs
surely heralding a future reputation as being one of the key albums to use as an example to future bands of how to reach out to a wider audience without alienating their core fanbase; though the Fire is still burning brighter than ever, their embers are ready to light up the sky, but not at the expense of replacing their tried and tested kindling with something artificial and industrial. Keen ears will be able to detect a touch more of a mainstream sheen compared with the prior albums; both lead singers Wim and Régine's vocals are lovely and clear, and the co-production tinkering between the band and expert mixer
Markus Dravs
(
Brian Eno
,
Björk
, (...ahem)
Coldplay
) means they have never sounded quite so synchronised or sweepingly epic at certain moments (both of the
Half Light
songs that finish the first half in particular are rather galvanising). And despite all of this, Arcade are still taking risks, not letting the biggest release of their careers hamper their uniqueness;
Ready to Start
is as moving a paean to overcoming the lethality of heartbreak and broken dreams as you're likely to hear, as
Empty Room
is to grandiose neurosis and
Suburban War
to neighbourly paranoia. So, it's three straight triumphs for Canada's best band right now...
Arcade Fire's Official Site:
http://www.arcadefire.com/
• • • • •
Now it's time to gingerly tread hipster-baiting waters with a few sentences about one of the more prominent taste polarisers of the American indie scene for the last few years, one
Ariel Pink
. Ever since his incredibly lo-fi home recordings were reissued under
Animal Collective
's
Paw Tracks
label in 2004, Pink has encouraged as much vitriol for his muffled, discordant sounds as he has critical garlands, as much been accused of composing cynically pretentious drug music as he has of delivering impressive pieces of sign-of-the-times malaise and deconstruction, either way helping to evolve the current indie scene that appears to be more and more concerned with getting laid and/or wasted (hear last year's heavily-praised debut
Album
from
Girls
, as well as the similarly white-hot beach-pop-gone-wrong of
Best Coast
's
Crazy for You
for a couple of the better examples). Having already self-released eight albums in six years (some already under the Haunted Graffiti banner, and one of which, rather self-effacingly, simply bearing the moniker "
Ariel Stinks
"), Pink's major-label debut after signing with
4AD
last year with his newly recruited band has finally landed, but in typical style, there is still a strong smell of "what the fuck" about it, many rather taken by its grungy early '80s punk/freak folk influence, others stricken by just how turned off they are by the work on display here.
Truth be told though,
Before Today
, like so many of their detractors have already written, can't stand up to such intense scrutiny musically, precisely because it's not really meant to. Like many of this new movement's denizens, it is pretty content to amble around; at times psychedelic, at others ungainly and self-conscious (a fine summation of both in the same song is
L'estat (Acc. to the Widow's Maid)
, content to feature diverting synths as Pink near-embarrassingly flails vocally through it), but always with a certain bedraggled charm, it summons images of long, lonely nights in the dingiest bars of New York, at least vividly evoking a certain sense of time and place (best example being
Fright Night (Nevermore)
, which is positively yearning for a night-time drive montage visual accompaniment). Which isn't to say that there is any merit of musicianship absent here (lead single
Round and Round
and
Bright Lit Blue Skies
have the kind of harmonies reserved for acoustic folk bigwigs), though the question still remains as to whether Pink and company are really legitimately behind this throwback exercise, or stringing wannabe tastemakers along? Between the raunchily absurd
Butt-House Blondies
and the rather sweet
Can't Hear My Eyes
, it'll be a long while before the argument dies down, but then that's probably been Pink's intention all along (and at least, it's worth arguing over...)
Ariel Pink's Haunted Graffiti's MySpace Page:
http://www.myspace.com/arielpink
• • • • •
Another new release that will surely herald plenty of "what the fuck" moments for its listeners (albeit intentionally and gloriously, rather than leaving them to muddle through as to whether the record is indeed any good or not) is Nick Zammuto and Paul de Jong's latest LP in five years, having spent most of 2009 recording after a self-imposed hiatus. The Books' reputation for out-of-leftfield electronica has held true since their sample-tastic debut hit in 2002, many prone to claiming that the duo's sound is genuinely unique and quite unlike anything else you may have heard. Whilst that's certainly not true by any stretch (any
Warp
aficionado can earmark
Boards of Canada
especially in their work, as well as the duo's oft-cited influences
Squarepusher
and
Aphex Twin
), it goes at least a little way to explain where The Books stand with regards to other electronic acts in music today. Theirs is a sound that isn't pop, folk, ambient, nor is it even strictly electronic in nature either, but nevertheless utilises all of these elements (and some impeccably-placed dialogue samples) to inhabit a weird and often wonderful world.
The Way Out
is the duo's fourth album thus far, and is encouraging for the fact that, given their time apart, Jong and Zammuto have not lost their flair for constructing alien soundscapes that are made all the more unnerving for sounding wholly familiar.
The sonic ether that this album creates is one of restless self-help and at-times sinister introspection, Zammuto going on record as saying that he and Jong did sample liberally from a lot of hypnosis and meditation tapes, as can be found on the album's opener
Group Autogenics I
(a specific technique developed by a German pyschiatrist in the 1930s, and no, I'm pretty certain that's not
Walter Bishop
himself trying to make you fill your head with liquid... I think!) The result almost feels like the stream-of-consciousness of a person's tormented brain adapted as much as it can into a disco oddity, with lashings of freak folk (
A Cold Freezin' Night
, which happens to feature adolescent siblings threatening to kill each other) and cut-up contemporary beats (as found on
The Story of Hip Hop
, which could be a
Sesame Street
skit, it's that cute!) In an album full of blind-siding flourishes (the reversed harmonies of
Beautiful People
, the interlude featuring
Mahatma Gandhi
), the highlight has to be
Thirty Incoming
, if only because the story it tells via a series of awkwardly pained answerphone messages is the perfect summation of the album itself; lonely and disturbed but not without tenderness, hope and endearing empathy. It beggars a curious question though; could The Books have passed this off as a genuine New Age self-help recording? Probably, if
Oprah Winfrey
got behind it...
The Books' Official Site:
http://www.thebooksmusic.com/
• • • • •
But one of doubtless thousands of budding musicians eschewing the plastic charms of California for the idealized grit and bohemia of New York, Nina Nastasia's career hitherto has been one of the rare instances wherein hard-graft and good fortune went hand in hand to turn her into the recognized artist she is today. Humble beginnings creating and distributing her own CDs at gigs (all 1,500 she made in her apartment sold out, apparently) soon made way for a transatlantic breakthrough courtesy of the late, great
John Peel
and his massively influential BBC Radio show, who insisted on playing her debut disc
Dogs
rather obsessively to an appreciative audience in the United Kingdom. Since then, she has gone on to release four more albums of her trademark stirring folk sounds (amongst them her very well-received collaboration with drummer
Jim White
, 2007's
You Follow Me
) and enjoyed noted success across the world as a result, now having been signed with cooler-than-most label
Fatcat Records
(
múm
,
No Age
,
Sigur Rós
when everyone still loved them) for the last four years. Now on her sixth album, Nina has opened up her sound to ensnare a larger listenership; and given the right push from FatCat, there's absolutely no reason why this isn't likely to happen, at least on the evidence of the album's obvious charms.
It's a fair statement to be made when describing the virtues of folk music that it more often relies on its key storyteller to hook the listener in, and it's also fair in stating the Nastasia is probably one of the most endearing singers that the genre has to offer these days. Like her previous albums, it benefits that Nastasia has recruited old hands familiar with her work to help her out here (key collaborators being her staple producer
Steve Albini
and engineer Kennan Gudjonsson), and the LP is given some extra grace thanks to some elegant string arrangements (the most heartening of which can be found on
You Can Take Your Time
) as well as a few surprisingly welcome tempo-changes (you won't be quite sure how well the tango-style arrangement on
This Familiar Way
sounds until after its finished, coming across like a lost
Portishead
song). However, this is Nina's album, no question, and she holds court with such a noble timbre to her voice that it is quite impossible to not find yourself being sucked into her world; that something as lovely this was all recorded and mixed within five days is testament to the talent involved. Those who are prone to a bit of an emotional sniffle better beware though; Nina's album positively wallows in emotional turmoil and isn't for the stone-hearted.
Nina Nastasia's MySpace Page:
http://www.myspace.com/ninanastasia
• • • • •
To be an electronic solo artist these days can be very exciting. Sure, the likes of
Kanye West
and
Timbaland
have been releasing solo material for years after shepherding various peers through their beats in the realms of hip hop, but now with the rapid emergence of dubstep infiltrating the charts either via pop song remixes (
Skream
's remix of
La Roux
's
In for the Kill
last year helped to catapult both of the fledgling artists into hot pop property) or from a good steam of heady hype (whilst
Burial
has yet to be superseded in terms of genre peerlessness, fair stabs have been made by the likes of
Scuba
and
Breakage
), the world appears to be primed for an onslaught of male solo artists armed with laptops and the latest trendy beats in a bid for a decent placing in the upper echelons of music geek fandom. The saying used to be that everyone's a singer; now everyone seems to be a production whizzkid. Some have gone for a poppier approach, such as the aforementioned Skream,
Ellie Goulding
's right-hand man
Starsmith
and the execrable
Owl City
(seriously, HOW did the latter get to number one!?) whilst others have traded in an edgier indie cache with their programming, much like the adorable
Tim Exile
or 21-year old Will Wiesenfeld or, as he's professionally known, Baths, who belies his age with a rather wonderful, head-turning debut that should see his star rise exponentially.
An ambient mix of glitch, hip hop and electronica at times punctuated with spoken words from young children or Wiesenfeld's own vocals, the album is one enriched with exuberant youth, the bizarre euphoria that comes from stepping out into the world and taking in its new strikingly alien vistas (which is what you'd most likely want to, and do, hear from a track with the title
Rafting Starlit Everglades
). The use of child vocals is one that thankfully doesn't outstay its welcome, even charmingly employed on the likes of
Aminals
and
Seaside Town
, and the processed beats cut up all of the wistful naivety to synthesise it into a unique debut that doesn't once lay on the saccharine schmaltz for a reaction. Even if Wiesenfeld's vocals aren't nearly as beguiling as his arrangements (though props are due for
Lovely Bloodflow
, as he certainly catches your attention with his weird mix of
Prince
-style crooning and
Panda Bear
-style whispers), there's enough winsome charm and cutting-edge beatsmithing to win over even the most snooty of hard-to-please indie hipsters; trapped somewhere between the club and the car stereo as you drive down to the beach on a sunny day,
Cerulean
is the summer album that should have been.
Baths' MySpace Page:
http://www.myspace.com/bathsmusic
• • • • •
More glitchy, genre-blending electronica now, this time hailing from the UK, with Brighton based production duo Mount Kimbie, a.k.a. former university pals Dominic Maker and Kai Campos. Despite initially working within separate genres when they first met (Kai was busy making hip hop beats whilst Dominic was creating "bizarre weird indie stuff"), both students decided to come together to create a new sound whilst sharing halls of residence, the results summoning up enough interest from emerging alternative-dance label
Hotflush
for them to commission two EPs and now, their debut album. Association with one of the UK's more popular dubstep stables has since provided some encouraging coverage from the media and the industry, the boys currently enjoying a busy year of live performances. However, it wouldn't be strictly true to herald the boys as dubstep's latest musical success, because, even by their own admission, Mount Kimbie aren't strictly dubstep; both of the boys' prior musical backgrounds do surface throughout their short-but-sweet premier LP, but truth be told, their album straddles too many genre lines to peg itself down to a specific music movement. What can be said though, is that the boys have served up something rather interesting and special.
Born from a successive flurry of loops, whether it be the rowdy crowd noise of opener
Tunnelvision
or the entrancing cola fizz cutting itself through
Carbonated
, Kimbie are almost freeform in their approach as to where the music will end up; the trick they pull off throughout this debut though is that of harnessing all of these disparate samples and genres together to turn it all into a unified sound. The album's first standout track,
Before I Move Off
, is a perfect example; beginning with a processed guitar pluck, it seamlessly moves from freak-folk to R&B garage by way of a mix of distorted, static electronica. Elements of dubstep can be found on the album for the label's ardent fans, particularly on the more straightforward offerings
Blind Night Errand
and
Ruby
(the latter in particular being a swoonsomely sinister example), but it's the success with which Maker and Campos are able to integrate so much into a tight half-hour set that truly impresses; as an opening statement and taster of what may lie ahead,
Crooks & Lovers
is a deliciously succinct way of announcing their arrival on to the alternative-dance scene. And the album gets instant cool points for featuring the greatest female posterior to yet be seen on any front cover artwork so far this year...
Mount Kimbie's MySpace Page:
http://www.myspace.com/mountkimbie
• • • • •
Pretty much everything you could possibly write about Maya Arulpragasam has already been published in the lead-up to the release of her third LP,
/\/\ /\ Y /\
, so one arriving late to the game of reviewing her album really does not know where to start. One thing's for certain though; the artist-turned-rapper still knows how to crank up the controversy behind her background and music with startling proficiency. She's the only mainstream artist to actually take swipes at
Justin Beiber
and
Lady Gaga
in interview, she agreed to a profile piece in the New York Times despite rightly calling out against an article of theirs that portrayed her native, war-torn Sri Lanka as
a "must-go" holiday destination for the mega-rich
resulting in
the biggest interview stitch-up
in recent memory, the extraordinary video for lead single
Born Free
was pulled from Youtube and Vevo within hours of its premiere on account of its violent imagery, she let two-hundred fans rush her stage at The Big Chillin the UK only to have her pulled off early and risk not getting paid for her appearance for breach of contract, she's been parodied for advocating
the Tamil Tiger terrorists
of her homeland whilst living an alarmingly plush life in Los Angeles with her young son and billionaire fiancé... It almost beggars the question as to whether to bother with her new album at all, never mind actually listening to ascertain whether the music within is any good.
But after the Google-sponsored paranoia of opener
The Message
has jarringly segwayed into the power-tool assisted club jam
Steppin Up
, any qualms about M.I.A. not delivering anything interesting to the table music-wise are rendered moot, even if
/\/\ /\ Y /\
ultimately registers as her lesser album thus far. Though it's named after its progenitor, the content of M.I.A.'s third LP is one designed wholly with the Internet in mind; you have a paean to instant message textspeak flirting on her finest pure-pop moment so far
XXXO
and
Teqkilla
has Maya and production cohorts
Switch
and
Rusko
fighting for space in a drunken information overload that finally collapses on itself. And yet, whilst nothing on this album is ever less than interesting to listen to, there seems to be an almost irksomely conscious effort on M.I.A.'s part to provide as rough a ride for her fans as possible, be it through the sheer audio onslaught of her backing (
Meds and Feds
samples new best-mates
Sleigh Bells
and somehow sounds even louder!) or the less-than-coherent moodswings between tracks, a key moment being when the light-dub of
It Iz What It Iz
abruptly screams its way into
Born Free
. Still, there's more than enough ideas, invention and solid-gold music to divert even the most critical of listeners, especially when Maya lightens up on
Paper Planes
' spiritual sequel
Tell Me Why
and the ambient closer
Space
.
N.E.E.T. Recordings Site:
http://neetrecordings.com/
• • • • •
Where to begin on a career as wide-ranging and illustrious as Hans Zimmer, one that's taken in
80's gameshow themes
,
pop music classics
and finally earned him the title of Hollywood's go-to man for melodramatic, epic music scores? The man is such a reliable staple in the moviemaking process in Hollywood that he's even enlisted to take over work from more-than-capable composers, pinching both
Alf Clausen
and
Julian Nott
's spots for both
The Simpsons Movie
and
the Wallace & Gromit film
respectively! Though whilst he's got his fair share of rather amazing soundtrack albums under his belt (his scores for
Gladiator
and
The Thin Red Line
in particular spring to mind), Zimmer's more often found these days providing OTT audio bombast for the likes of DreamWorks and
Jerry Bruckheimer
, his work for the latter especially providing some of the most grandiose bemusement to ever rise out of an orchestra, a prime example being his scores for the
Pirates Of The Caribbean
trilogy, which it must be said are just horrendously overwrought and stupid. Recently though, it would appear Zimmer has discovered an enlightening muse in director
Christopher Nolan
, who has not only managed to wrench some of the composer's best work out of him for his
Batman
movies, but inspired Zimmer to create what may be the pinnacle of his career so far in his score for mind-bending dream thriller
Inception
.
Not having seen the movie yet, I can't really comment on how well-matched the score is to the action onscreen; what I can attest though is that, like
Nick Cave & Warren Ellis
' beautiful score for
The Road
earlier this year, Zimmer's work here is nothing short of beautiful on its own anyway. Yes, the big brash obtrusiveness is still present, but the brass arrangements in particular are so positively frightening at times that whatever twists and turns they punctuate in the film's narrative ought to be a doozy (
Half Remembered Dream
in particular finishes with such loaded tragedy and horror it's quite the minute-long marvel). Being an accomplice to a film wherein dreams within dreams may or may not be what they first or last appeared to be or not, the score itself is loaded with mystery, longing and suspenseful ticks;
Old Souls
bears all of the hallmarks of Zimmer's typical romantic love themes but aims for something more elusive and heartbreaking than usual, whilst the pulse-pounding
Mombasa
should swiftly become the next track used in teaser trailers for upcoming action movies. Given
Inception
's incredible box office, radiant response from critics and Christopher Nolan's assured status as a Hollywood gamechanger (it ought to rectify the Best Director Oscar snub he received for
The Dark Knight
), Zimmer's a shoo-in for an Oscar nomination here, even if it is most certainly too dark to win.
Hans Zimmer's Official Site:
http://www.hans-zimmer.com/
• • • • •
A band whose members bear the stagenames "Ooah", "Kraddy" and "edIT" may not inspire the greatest confidence in their musical potential, but thankfully The Glitch Mob have seen fit to overcome those slightly naff monikers to deliver some of the most well-received rave-ups the world over for the past couple of years. Now, after having been anointed as the current toast of dance music in various publications and blogs, DJ buddies Edward, Josh, Justin and Matthew have finally unleashed their debut album, following on from years of being booked to turntable at the same parties in Los Angeles, firing musical ideas at one another and eventually developing a live show that's big on improvisation and audience interaction, but doesn't seem to skimp on galvanisingly propulsive shape-throwing. Yet another example of an electronic music act who persistently jump through various categorical hoops to defy a singular genre identity, no doubt as much informed by their eclectic music tastes as much as their own "so-what" attitude with regards to classification, The Glitch Mob are a confident, lively bunch who promise that, wherever they may end up taking you, it is going to be nothing short of sublimely dancey; a banner on their website proudly proclaims "We Slay Crowds", and if their debut is anything to go by, there really is no point arguing with them on this.
Of the myriad influences that pepper
Drink the Sea
, it is strictly the sinister spectre of trip hop that looms over the album that lends it some surprising gravitas, which is something not normally found on dance albums these days. Key moments where this is brought to bear quite fabulously can be found on
Bad Wings
, whose distorted beats punch through the shrill blips and choral wails to entrancing effect, and the rather amazing collaboration with their singer/songwriter pal, Swan, on
Between Two Points
, which should surely earmark Mob as one of the hotter future collaborators for alternative divas or even rock/metal acts keen to capitalise on the latest sounds (
We Swarm
could be worked into a particularly raucous metal jam if the boys select the right outfit to pull it off). Sure, some of the bass-pounding can become a little excessive (the most malignant example being
Fistful of Silence
, whose mix of pummelling drums, chainsaw synths and Darth Vader-style breathless gasps is not for the squeamish), but it all fits together so well and makes such a bold statement on behalf of the band and dance music in general, it's hard not to be impressed.
The Glitch Mob's Official Site:
http://www.theglitchmob.com/
• • • • •
Otherwise known as Erik Berglund (that's this
Erik
,
not
this
Erik
!), one half of Swedish electronic duo
The Tough Alliance
and a founding member of independent Scandinavian label
Sincerely Yours
, CEO has quietly crept into all sorts of music blogs as a musician to take note of. Though he has his critics given his admittedly pretentious nature (check this
interview he recently did with Pitchfork via email
and/or his website's
opening press release
; even fans have to take some issue with the ego on show there), there is no doubt that Berglund has more than a fair shade of talent in that overdramatic head of his, as attested by this half-hour long solo debut. And the result is something very much of the Sincerely Yours label, that is a beguiling mix of electronica, folk and world music that beatifically ebbs away with plenty of wide-eyed charm and mystery. On the lighter end of the spectrum, you have the bright incandescence of
Illuminata
and the hand-clap jollity of
Love And Do What You Will
, which eventually gives way to the darker
White Magic
and reveals more ambiguous shades to Berglund's compositions. Much like label-mate
jj
's debut album last year, it's a lovely little affair that has blind-sided the international music scene; let's just hope that, if Berglund doesn't bring back The Tough Alliance and follows through on his solo career, his next album won't be as disappointing as their
follow-up this year
...
CEO's Official Site:
http://www.ceoceoceoceoceo.com/
• • • • •
Despite only having released two studio albums to his name, Anders Trentemøller has done well to become one of the most celebrated electronic musicians of the past decade, though it has taken a long while to get to where he is at the beginning of this one. Whilst he had already begun recording in the studio in the late 1990s, it wasn't until midway through the 2000s where Trentemøller's career saw a rather steep ascent in credibility, 2005 seemingly being his year as the Remixer Du Jour for the likes of
Röyksopp
,
The Knife
and
Pet Shop Boys
, to name a few of the razor-sharp pop acts to tap him for their single releases. 2006 saw his debut album
The Last Resort
finally see release and, lauded though it was, Trentemøller's reputation as a remixer was still the one with which he was most synonymous, prompting him to release a double-disc compilation of some of his better work for other artists a year later (disc one being a continuous live mix he recorded especially for the release, the second being a straight-up track-by-track collection). A rigorous tour schedule followed taking in festivals across the world, and now, the musician is back, armed with some more gorgeous electronic opuses, though, apart from one crazily fabulous exception, Trentemøller's gone ahead and made quite the gorgeous, crescendo-laden down-tempo album rather than a veritable maze of dance-beat signatures.
First and foremost, for an electronica album, not only is
Into the Great Wide Yonder
surprisingly chock full of melody and engaging songs (whilst his collaboration with
Guillemots
'
Fyfe Dangerfield
is certain to grab most listeners' attention, it is next single
... Even Though You're With Another Girl
that sounds like it could be a big hit, if it wasn't stuck in a such a sonic k-hole) but the album is arranged in a most organic way, with lashings of acoustic guitar and primal drums giving way to evoke the most epic, desolate wastelands you're likely to find on a long stretch of motorway. The one-two of lead single
Sycamore Feeling
, featuring a huskily soft vocals from Marie Fisker, and
Past the Beginning of the End
in particular seem to summon up vistas of the bone-dry American deserts (and perhaps those affected by nuclear weapon testing facilities, attributing to what could be the mushroom cloud featured on the album's cover). Of course, Trentemøller doesn't let go of his electronic credentials quite so evidently, as opener
The Mash and the Fury
's most enduring facet is that rumbling synth that seemingly foretells the end of days and
Silver Surfer, Ghost Rider Go!!!
is a surefire contender for the best electronic dance moment of 2010, it being so rivetingly over-the-top. However, it's when these elements are married together so vividly, as on
Shades Of Marble
, that Trentemøller's work excels.
Trentemøller's MySpace Page:
http://www.myspace.com/trentemoeller
• • • • •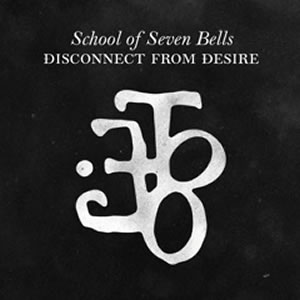 Some '80s electro-ballad wizardry now from twin-sibling duo Alejandra and Claudia Deheza of now-defunct
On! Air! Library!
and
Secret Machines
guitarist Benjamin Curtis, collectively known as School Of Seven Bells after playing support for Interpol a few years ago. Since the release of their debut effort
Alpinisms
in 2008, this dream-pop troika have enjoyed noted cult success, eschewing their previous efforts experimental post-rock in other music outfits for a more straightforward pop aesthetic that isn't any less swoonsome, which is an especially neat trick to pull off these days given pop music's astonishingly liberal plundering of stylistic genre conventions from twenty years ago. Another awesome facet about
Disconnect From Desire
is that, despite its entire birthing staff consisting solely of the three band members (which leads one to assume that they were in charge of instrumentation, production, mixing, pretty much everything), it retains such a sublime, at times epic sound;
Heart Is Strange
in particular is the type of time-capsule pop gem that could be a hit in any decade, past or future, its frenetic dance-beat giving way to rock guitars, gorgeous synths and the twins' vocals to deliver a timeless pop-rock gem. Despite hitting the charts at a modest 200 in America on its initial release, the right handling on the part of the label could turn this into the slow-burn hit of next year...
School Of Seven Bells' MySpace Page:
http://www.myspace.com/schoolofsevenbells
• • • • •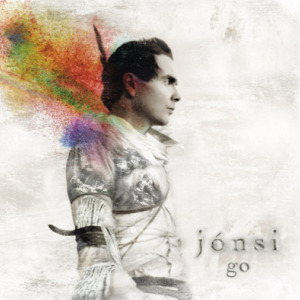 Appearing rather late on my Best Of 2010 blog entries, seeing as I first heard his debut solo LP around April, Sigur Rós frontman Jónsi managed to rectify this lapse of judgement with his fantastic touring party after a truly stellar performance at the HMV Forum in London (which I did harp on about on
my last entry here
). So, what's changed since then? Truth be told, on first listen, though I undoubtedly found most of
Go
perfectly lovely, I may have been discouraged from liking it so much because it presented a further step away from the audio majesty of Jónsi's prior music catalogue into somewhere less dark and sublimely powerful than previously. Having seen the live show though has made me re-evaluate the album's charms most significantly; it still can't quite match the sheer emotional velocity that Jónsi and company manage to summon during their performance (the
Grow Till Tall
finale really needs to be seen and heard first hand to be both believed and applauded enough to do it justice), but there is more to be found here before it is to be dismissed as a twee transgression compared to the work of Rós. Rather unlike the pied piper figure who memorably led those children off that precipice in the video for
Sæglópur
, Jónsi's reinvented himself as an earthy party animal, throwing something of a leftfield pop marvel to his fans and any curious listener within earshot.
In many ways, Jónsi releasing a solo LP now was something of a gamble. The backlash against his band (currently on hiatus due to impending fatherhood, as per Jónsi's own admission) after their fourth LP med sud I eyrum endalaust was starting to gain more than its fair share of traction, and wasn't helped by the pretentious/gorgeous
Riceboy Sleeps
collaboration with his partner Alex Somers (the divide is still prominent). Timing wasn't strictly on his side either, seeing as most frontmen whose bands were the toast of the music world over ten years ago tend to strike a lot sooner than Jónsi had done with some solo material (one such precariously-placed example in fact doing so next month). Still, one can't deny the sheer talent on display here; co-produced again with Somers and this time roping in American electronica producer
Peter Katis
and classical music's most popular prodigy of the moment
Nico Muhly
to have a hand in the arrangements, Jónsi manages to conceive a playful mix of childlike wonder (hear
Around Us
) and resonant drama (hear
Tornado
) that could be regarded as the purest essence of Sigur Rós' sound, except it's not drenched in so much apocalyptic reverb this time around. Sure he's singing in English now (with his unique alien-sounding falsetto though, you really wouldn't be able to tell!), but those writing
Go
off are not letting enough light into their music collection.
Jónsi's Official Site:
http://jonsi.com/
• • • • •
It's pretty much a given that, regardless of whether her characteristically sweet blend of dance-pop is your bag or not, everyone loves Kylie Minogue. Whether she's writhing saucily with next-to-nothing on in full on sex kitten mode or beaming with such effervescence her pearly whites may yet permanently sear your retinas, the woman's attractiveness and charm is undeniable, her innate winningness almost as impossible to describe as it is to ignore. Even when her music dallied with out-of-leftfield collaborators and ventured further from her established formula of camp power-pop (specifically on her
Impossible Princess
album of 1997, regarded by most fans as her best work, and 2003's
Body Language
, where she reinvented herself as a
Brigitte Bardot
-inspired cyber pin-up), there's something Kylie brings to the table that is uniquely hers; unlike some of her fellow popstar peers, she doesn't seem to get easily subsumed by the latest production gimmicks or musical trends when she releases an LP to stay ahead of the game, rather she makes any song she's given her own. After the slightly disappointing critical and commercial performance of her comeback album
X
in 2007 (somewhat unfairly, I might add, as there's still some cracking tunes on that one), 2010 sees Minogue back in the saddle with some of the most uplifting songs of her career, and one of her strongest albums certainly.
The main problem with
X
was its lack of cohesion; it was Minogue and her team of songwriters and producers covering as many bases as possible without a discernible throughline. In contrast, possibly the most enchanting thing about
Aphrodite
is how consistent it is in tone and in delivery, producer
Stuart Price
doing an exceptional job in retaining a more-radiant-than-usual Kylie's natural sparkle along with songwriting assignments and production quirks from the likes of
Keane
,
Calvin Harris
and
Fraser T. Smith
and synthesising it all into something quintessentially Kylie and never less than lovely.
All the Lovers
was a perfect choice for a lead single; Minogue's vocal might not quite set the song alight, but it isn't meant to, it being a more plaintive, reflective slice of disco harmony that positively exudes blissed-out happiness (and if that middle-eight doesn't make you feel even a little bit teary, then you've a heart of stone my friend... or you're probably straight!) Other highlights include the title track, which finally sees Kylie grapple hip hop-style beats and signatures with rapturous results, and the rockier-than-most
Cupid Boy
. There are minor quibbles to be made; Minogue's voice is so electronically-enhanced sometimes it proves quite distracting and the doodling of
Illusion
is the only misstep song-wise on the collection. However, rest assured, Kylie's given her army of lovers another pop gem.
Kylie Minogue's Official Site:
http://www.kylie.com/
• • • • •
To round off the last three months, we have the latest LP from Grammy-winning R&B hitmaker The-Dream, a.k.a. Terius Youngdell Nash. One of the more respected singer-songwriters working in music today (alongside partner-in-crime
Christopher "Tricky" Stewart
, he unleashed
Umbrella
and
Single Ladies (Put a Ring on It)
onto the masses), Nash's reputation as one of the brighter stars of the current crop of electro-tinged R&B pop brigade is more than assured, precisely because for all of the impressive swagger that Nash professes on his songs, there is as much soul and intelligence in his work as there are booty-clapping slow-jams of the most ridiculously sinful order. Sure, at first glance you'd be forgiven for mistaking his music as being essentially of the ilk of so many cheesy, shades-wearing poseurs (
Taio Cruz
, what happened!?), but even his major artist contributions are shot through with more savvy and spice than your average radio hit (
Single Ladies
still doesn't feel overplayed, that's how awesome that song really is). However, concerning album three of his ongoing
Love
pantheon (though Nash originally earmarked this as his final studio album in his wanting to branch out as label boss and entrepreneur, a fourth effort is due to see release next year), Nash uncovers even more invention, humour and sexiness in his technique and delivery.
Truth be told, Nash's music is strictly unsuitable for the more prudish listener, what with even the more radio friendly jams on here shot through with several degrees of horny perviness;
F.I.L.A.
has all of the trappings of a hands-in-the-air love anthem but actually concerns the self-professed
Love King
's efforts to charm her into a night of hot adultery, and the rather beautiful
Yamaha
features a chorus wherein Nash seems to be singing to his gonnabe-squeezes "phat" posterior. However, Nash sings with such assurance and smoothness that it never gets embarrassing, and at times he shows enough good humour to provide a knowing wink to his listeners in his lyrics, key moments being the good-natured wifey-taming on
Make Up Bag
featuring last year's rapping success story
T.I.
and the self-effacing confidence on display on
Panties To The Side
("I'll never be the pop star / I'm too raw"). Sure, sometimes his cockiness gets the better of him (somehow, I don't think the implied offense of
Florida University
is going to set the urban dictionary alight), but the album is so assured and hot, that you're more than happy to let it slide. Be sure to grab the special edition though, which features two of his better songs, particularly the stripped-back emotionality of
Take Care Of Me
, proving that Nash can very much sing without all of his peerless studio background gimmicks.
The-Dream's Official Site:
http://www.the-dreammusic.com/splash/
• • • • •
And that's your lot, you freaky readers! But before I go, a few more little surprises that didn't quite make the list but at least deserve a mention:
Sky at Night
by
I Am Kloot
Lovely
Bob Dylan
-esque folk produced by
Guy Garvey
; Mercury Prize nominated and richly deserved.
Mines
by
Menomena
Spooky, melodic experimental rock from Oregon-originated alt-rockers; rather disturbing and lovely all at once.
Pilot Talk
by
Curren$y
Major label debut from former child-rapper produced by
Damon Dash
protégé
Ski Beatz
; eloquent, witty thuggery.
Extra Wow
by
Nice Nice
Psychedelic, at times tribal electro-rock; both bucolic and industrial, rural and rocking. Rather good.
Sex Dreams and Denim Jeans
by
Uffie
French-American rapper finally drops her debut featuring production from
Feadz
,
Mr. Oizo
and
Mirwais
. A *lot* of fun!
Body Talk Pt. 1
by
Robyn
First section of triptych pop extravaganza from Sweden's biggest star of the moment; Pts. 2 and 3 should be great too...
King Of The Beach
by
Wavves
Sophomore album from would-be alt-rock star of last year; more accessible than his debut and that much better for it.
The Drums
by
The Drums
Bright beach pop from Brooklyn-based band who charted on BBC Sound Of 2010 poll; one of its more justified inclusions, certainly.
Mare
by
Julian Lynch
Tripped-out alt-folk with elements of jazz thrown in; head-scratchingly curious but often quite brilliant...
• • • • •
And that is your honest-to-God lot!!! Third time lucky writing this out... See you in November! xxx
Comentários