RSS
Recomendar
Set 14 2007, 21h42
Sun 9 Sep – The Flaming Lips
The Flaming Lips
are fantastic. And then a lot more than fantastic.
A Flaming Lips show is in the same vein of a
The Polyphonic Spree
show. Very high energy. And really, that statement that's backwards I imagine. FLips have been around a lot longer, but I saw TPS first. So you know.
When I got there the line was huge already. But, as I was there on my own, I was able to end up front row, pretty far right, but whatever. When we got there they handed out these little laser pointers. What for? Later you shall be enlightened.
The opening band
Black Moth Super Rainbow
? dshflkjf. I'm a pretty lyric based person. Did they have lyrics? No, not really, at all. When they did, they were so layered that I had no idea what they were saying. Cool thing about them was that their drummer was a girl. That was pretty awesomeness.
Flaming Lips. AMAZING. And now that I think about it Mel, I'm pretty sure they did do
The W.A.N.D.
I know that they started with
Race for the prize
, and ended with Moonlight something, cover of Rolling Stones. That was good. They did [youtube]She Don't Use Jelly[/youtube] as the first encore. And ended their main set with
Do You Realize??
Somewhere in between they did Pompeii,
Waiting for a Superman
,
Free Radicals
(FUCK!),
Yeah Yeah Yeah Song
,
Vein of Stars
,
Fight Test
, an acoustic version of the Yoshimis, and
My Cosmic Autumn Rebellion
. Clearly very heavy on Mystics, but, uh that makes sense. And something they called "Twenty-fifteen" which I recognized, but I can't figure out what the hell it was.
Wayne spent some time before Yeahx3 bashing the presidente. And I applauded. If you aren't familiar with the track, you oughta be. I loves it. It's loads better live than it is on Mystics.
Now, for their tech aspect. I've never seen such a mighty production before. And it's done in such a way that it doesn't conflict with the music going on. Brilliance. But, did I take pictures? No. didn't get any because some security guard told me I couldn't take my dcam in. But it turns out he was a liar, because I could have. Boo. Anyway. They pass balloons throughout the audience during the time between the opener and the FLips. And they slowly got larger in size. And they have those confetti horns that are massive, and amazing. And a Confetti gun like thing, that's amazingness. Not to mention their gigantic full color screen that plays footage and instructions during various songs. And many smoke machines and all this wonderful stuff. I was having a techie-gasm? Those exist? They DO NOW!
The coolest effect of the show however, was when Wayne had us all point our laser pointers at him, they killed the lights and they all bounced off this mirror that he had, and just with green strip lighting from behind. Oh, AMAZING. AAAAAAHHHHHMAAAAZING.
And then, I hung around after the show. With my not happy ankle. And in the cold.
But it was worth it for this: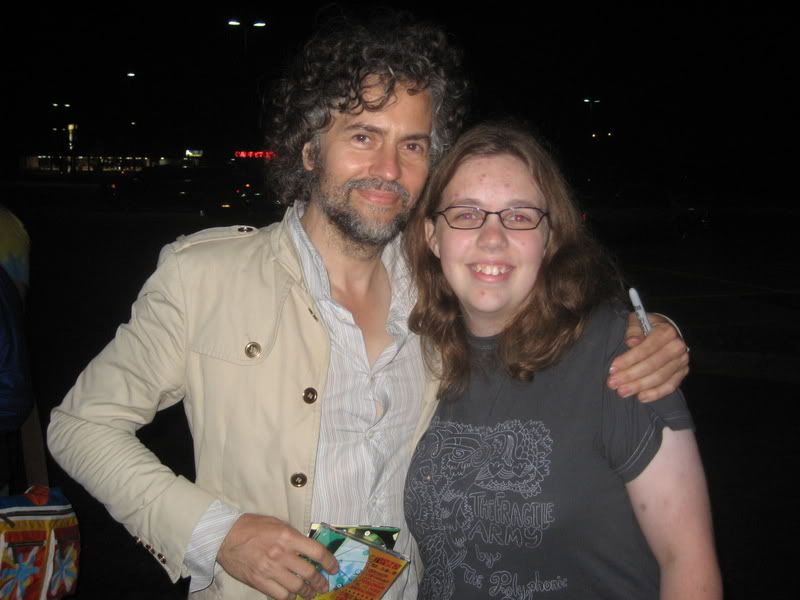 You like all my bruises? Besides that fact, My face doesn't look befucked in this picture. YAY.
So, Wayne decided he's gonna call me Bobby. Why? Because the kid in front of me in line, who's name was Logan... was talking about how he was originally going to be named Buck. Only problem is, his last name is Doe. Uh. Yeah. Bad name. And I was like, well, I was going to be named Robert. And Wayne decided that would have still been alright. No. No no no. He was tempted to sign my cd, you see there, Bobby... instead of Allison. No thank you. But it was very funny.
Comentários