41, Masculino, AlemanhaÚltima visita: março 2013
2

8

9

3

5

execuções desde 12 Jan 2010

Feeds
| | | | | |
| --- | --- | --- | --- | --- |
| 1 | | | | |
| 2 | | | | |
| 3 | | | | |
| 4 | | | | |
| 5 | | | | |
| 6 | | | | |
| 7 | | | | |
| 8 | | | | |
| 8 | | | | |
| 10 | | | | |
| 11 | | | | |
| 12 | | | | |
| 13 | | | | |
| 14 | | | | |
| 15 | | | | |
| 16 | | | | |
| 17 | | | | |
| 18 | | | | |
| 18 | | | | |
| 18 | | | | |
| 21 | | | | |
| 22 | | | | |
| 23 | | | | |
| 24 | | | | |
| 25 | | | | |
| 26 | | | | |
| 27 | | | | |
| 28 | | | | |
| 28 | | | | |
| 30 | | | | |
| 31 | | | | |
| 32 | | | | |
| 32 | | | | |
| 34 | | | | |
| 35 | | | | |
| 36 | | | | |
| 37 | | | | |
| 38 | | | | |
| 38 | | | | |
| 38 | | | | |
| 41 | | | | |
| 41 | | | | |
| 43 | | | | |
| 43 | | | | |
| 45 | | | | |
| 45 | | | | |
| 45 | | | | |
| 45 | | | | |
| 49 | | | | |
| 49 | | | | |

Feeds
| | | | | | |
| --- | --- | --- | --- | --- | --- |
| 1 | | | | | |
| 1 | | | | | |
| 1 | | | | | |
| 1 | | | | | |
| 1 | | | | | |
| 1 | | | | | |
| 1 | | | | | |
| 1 | | | | | |
| 1 | | | | | |
| 1 | | | | | |
| 1 | | | | | |
| 1 | | | | | |
| 1 | | | | | |
| 1 | | | | | |
| 15 | | | | | |
| 16 | | | | | |
| 16 | | | | | |
| 16 | | | | | |
| 16 | | | | | |
| 20 | | | | | |
Sobre mim
Any ambigouus or otherwise weird looking entries can be resolved by digging out the not so well known 60s/70s garage/psych/prog/folk artist of the same name most of the time. Many names have been reused over the past, usually in ignorance of those who where there first. Anything you want to know about a band or song I have heard, shouted or wiki'd on? Or better: Is there anything you think I should listen to? Let me know...
About me: Twenty years hunting for obscure and neglected music, mostly from 1966-1970.
Everything else has been said by greater minds, long ago:
"If you want to find truth in life, don't pass music by."
-Eric Burdon
"It hurts to set you free, but you'll never follow me."
-Jim Morrison
"Without music life would be a mistake."
-Friedrich Wilhelm Nietzsche
This space dedicated to Francois Vigneault, one of the first to start a website on psychedelic music in 1995. I hope you are doing well, whereever you are.
Take your top 50 artists. For each of these artists, collect the top 20 similar artists (where the artist itself is the #1 most similar). The resulting number of unique artists is your
super-eclectic score
. You can compute your own score at
http://anthony.liekens.net/pub/scripts/last.fm/supereclectic.php
My super-eclectic score is currently (2011-06-18):
Listen to the pictures!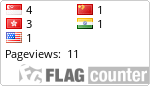 Atividade recente