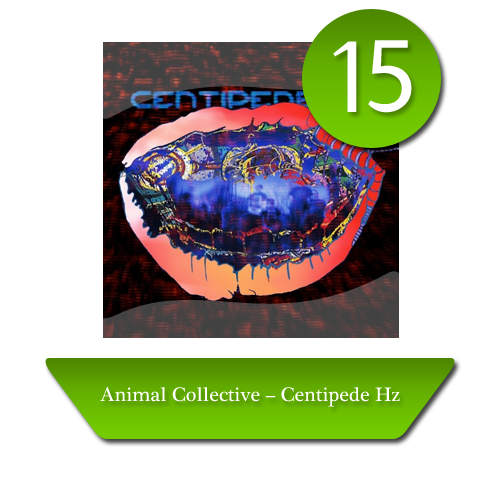 Animal Collective
-
Centipede Hz
Animal Collective returned to the musical panorama following the critically acclaimed
Merriweather Post Pavillion
– The band have opened up their dusty suitcase of magical potions and tales to rejuvenate their sound back to a point where it was most bedazzling. The enigmatic howls of
Avery Tare
and whines of
Panda Bear
are more apparent on their current offering. The album sounds earthly yet abraded in comparison to its predecessor. Centipede Hz is not for the casual walking around Urban Outfitters listener, but for those who have adapted their ear lobes, put patience in their earphones to embrace the cryptic psychedelic sound of Baltimore's finest. Fans of their mid-2000s work are in for an audible treat. On a disappointing note. Yes, it doesn't have as much moments of wonder as listeners craved and sadly, it was a washout not to include
Honeycomb / Gotham
on the track-listing.
XXYYXX
-
xxyyxx
Although only a 'mix-tape' it is probably the most impressive releases since
House of Balloons
by
The Weeknd
. The late-teens Floridian producer has shined years before others are even musically aware, a find blend of garage beats, chopped up and layered out beautifully for an already momentous first step in music, it will be more interesting than an episode of Breaking Bad to see what planet this musical voyage goes to next. If there is any criticism, the album does at times does get lost in itself and lacks a sense of true direction.
Totally Enormous Extinct Dinosaurs
-
Trouble
This album mixes both dancehall and garage perfectly together in a bowl of blasé sound. Totally Enormous Extinct Dinosaurs or TEED as they're known for people who don't like to press their keyboard too often have released an album that seems to be stuck between future and past, there are a lot of late nineties vibes going on in some songs, yet still a fresh sound of dance adorns the track-listing also. I guess the name makes sense now if you think about it in that way… Nevertheless, this album is enjoyable, if not the most groundbreaking, it certainly adds new light to the spectrum of electronica.
Why?
-
Mumps, etc.
After a callow Pitchfork review gave this album 2.7 out of 10, I myself, as a zealous Why? fan, had to wonder, maybe, this was the decline of one of the best bands to mix words and head noddin' beats together into an enveloped sound of utopian epitome? I read the review with an uncluttered mind and raised eyebrows – There were a lot of points I agreed with, like Yoni Wolf becoming increasingly self centered and trickier to relate to. Mr Wolf raps about what it's like to be the singer of Why?, not what terrible, romantic and fantastic disease it is to be born as a human, like he did back in the day when no one knew about things like Instagram. The review got lost in a ball of hatred, but if one actually listens to the album there are a lot of future-classic and poignant rhymes included in Mumps. Etc, especially on songs such as
As a Card
/
White English
/
Way High On Highway 13
. I implore every Why? fan and listener of hip-hop to heed this album on a deeper level. Give it time and patience and it will become a cousin you get on with who is talented at tapestry.
align=center]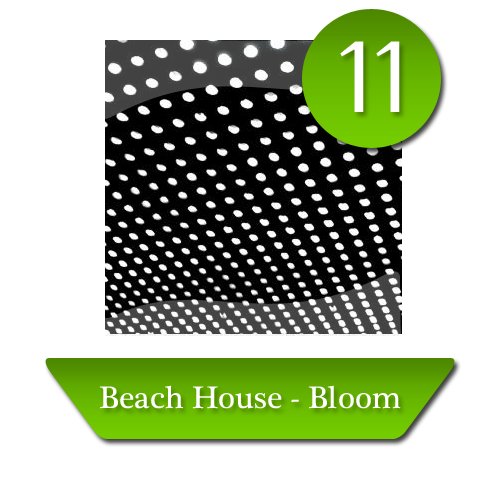 Beach House
-
Bloom
Whispy, husky vocals return, the choked behind too many malboro lights voice of Victoria Legrand is as impressive as ever. After
Teen Dream
it was fascinating to see where the band would go with their sound. The answer? A more accessible and heartfelt album has followed. Their sound has more power toward it and this makes for a brilliant platform for the band to excel within the limelight. Now when you're in Starbucks, wishing you weren't with the person from across the table, you might here Legrand's voice in the background reminding you that, it's okay. With albums like this, they might one day surpass
Animal Collective
with the title of Baltimore's finest musicians.
DIIV
-
Oshin
Oshin feels like one elongated soothing song with jerky guitar riffs, steady drums and opaque vocals, where lyrics are difficult to decipher through the glass of cool. But it is the guitar that guides the album forward with an unusual charm in its melody.
How Long Have You Known
, is a fine example of DIIV's instrumentation talents. Their sound may not be so unique drawing from the 80s and post-chillwave era but the band are one of the best at what they do. DIIV are named so as a tribute to the band all having water astrological signs, but one would be a fool not to let Oshin take a dive into your waterfall of a heart.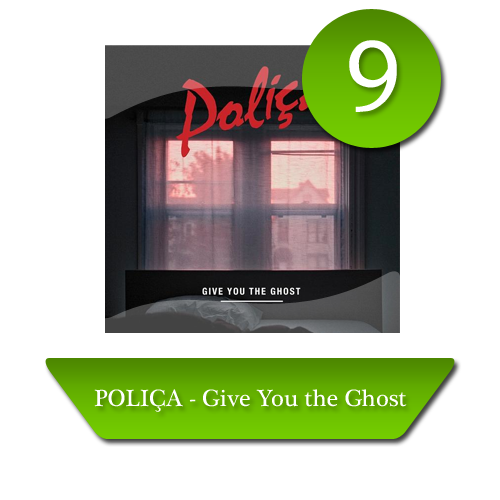 Polica
-
Give You the Ghost
An innovative form of digital blues is here for the world! Some of the best descriptions I've read about Polica have been "sounds like Fiona Apple fronting
TV on the Radio
" or "a cyborg
Norah Jones
meets current Johnny Greenwood from
Radiohead
" but Polica are their own creature and they bring together elements of compassion, emotion and mollifying nature together in this album. The lyrics are quite personal but not too personal, so thus meaning they are accessible to listeners. Tracks like
Dark Star
and
I See My Mother
are particular highlights, exhibiting Channy Leaneagh's vocals as a front-woman. An unforgettable live performance really propelled this album in to repeated listens for me. The way in which the band dovetail the digital with traditional is a joy to perceive. There's got to be a reason somewhere why connoisseur of cool
Jay-Z
is a fan right?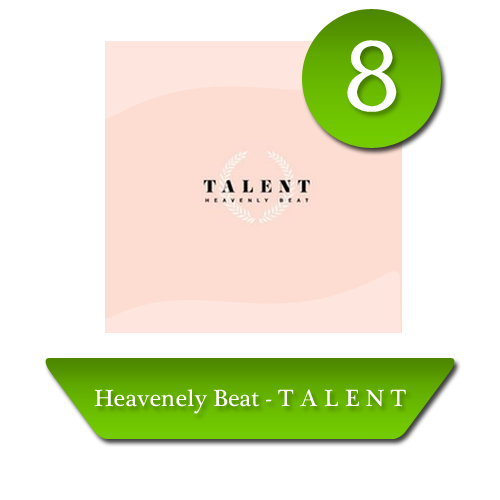 Heavenly Beat
-
T A L E N T
A bedroom project that has gone remarkably right.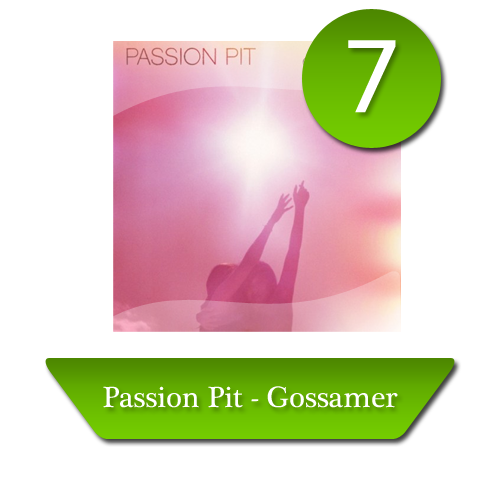 Passion Pit
-
Gossamer
Alike their former record, Gossamer rushes through the same veins on the human body –pumping electric charm with a side order of misery and self-doubt. Passion Pit are quite simply one of music's clearest oxymoron's. They blend such poignant and self-deprecation with a perplexing glow of hope and candy covered happiness. Passion Pit are the contemporary answer to musical bi-polar. Michael Angelakos is once again impressive in his delivery of thought provoking lyrics – although at times the album does feel a bit like hand-picked synth pop compilation rather than a journey or story, it still bleeds brighter than its adversaries in the swimming pool of what it takes to have guts.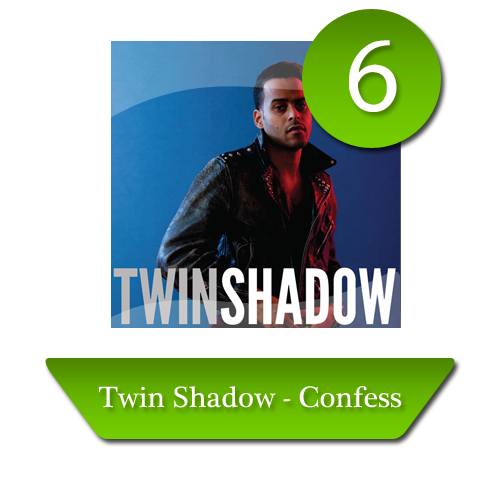 Twin Shadow
-
Confess
"It's too poppy". "It's too mainstream". "They've sold out". These are some examples of things you may have heard about this album. Yet another sophomore album this year that has exceled and exceeded the expectations set by music bloggers. Confess is more accessible and is more pop like than Forget, but having said that, although lacking subversion – it does display a lot of progression and improvement in style. Sometimes things get more popular because they are good, and that can be said about this album too. Another album to get lost in the mystical area of modern pop pretentiousness. Be careful what you're seen listening to on that subway train! Tracks like
Golden Light
and
Run My Heart
express foot-stomping and heart flooding emotion within. Everyone should be careful what they do with their other shadow.
Santigold
-
Master of My Make-Believe
One of the coolest owners of female body parts returned this year, to light up the world with her sense of style and nonchalant unique lure. Santigold's simpressive sound was on full display on Master of My Make Believe, which mixes both an urban sense of pop and progressive cheerful indie. Singles like
Disparate Youth
and
The Keepers
should be given away on the back of cereal boxes for kids to learn about how good music can be.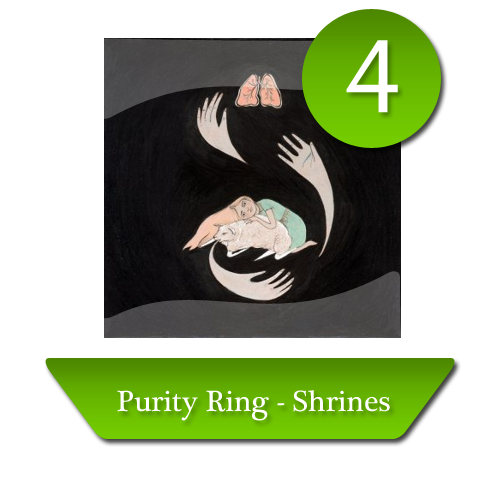 Purity Ring
-
Shrines
Shrines is a succinct and concise album of splendor and wonder. It develops throughout delivering cryptic stories behind gorgeously full electronic beats. The vocabulary and vocals of lead singer Megan Jones is nothing but charming and could create a sparkle of awe in even the most miserable of hearts. The Canadian duo have a lot to live up to after this album of cool. Shrines would be that one friend who you never really get to know, but is always mysterious to you and has cheap magic tricks in their pocket at all times. Shrines is the red fish toy you place on your palm, but now, changes colour! Purity Ring are as au courant as you can get.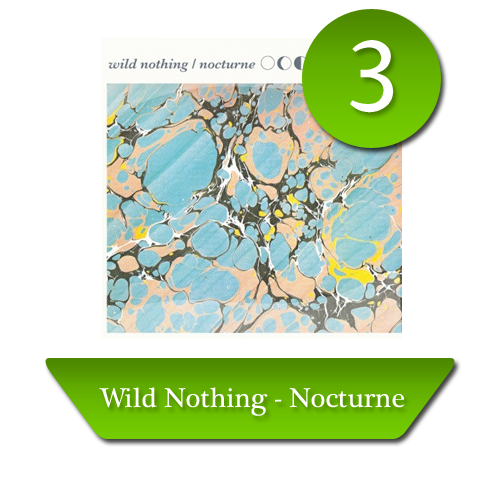 Wild Nothing
-
Nocturne
That tricky album, the second album – the album that makes or breaks bands in the public's sniper eye. The pressure was on, boiled up and intense, there was sweat somewhere, dripping graceless and reckless down a forehead. But Wild Nothing delivered a dream of an album. Nocturne is delicate and charming to the listener, it contains a few songs that will make most hearts feel warm and cozy at any room temperature. The sleepy-pop shoe-gaze feel to the album makes it very tranquil and gratifying. Wild Nothing have developed as a band and on this album it's even more evident. The album, like their first, contains a few anthems for the lonely pizza regular to chant in to their mirror of misfortune to. The album has a distant sound to it, almost like the band are playing through an opaque piece of glass, but nonetheless Nocturne is lovely, in all synonyms and connotations that the word generates.
Jon Talabot
-
ƒin
A late entry for me, but an emphatic one. The Spanish wonder-kid came from nowhere and blew my mind away with a million and nine bazookas with his debut album ƒIN. The abstract and majestic arrangement of electronica is a wonder to behold here. The album is uplifting, haunting and mysterious all in one impressive entity. Fin develops one song after the other, it simply is one of those albums that you must to listen from the first second until there's nothing but silence in your speaker system. Talabot creates a sense of wholeness in this album, that only leaves the listener perplexed and ready to hit repeat. If Fin was a 6.30pm dinner date, you would not realise that everyone has left, the lights are off and the staff are now asking you to leave, it's that engrossing.
How to Dress Well
–
Total Loss
I don't know where to start when talking about this album. It is just so powerful, soulful, significant, ardent and bursting with emotion I feel like my fingers are going to seep in to my keyboard just listening to it again. Tom Krell blends his exultant voice with the good ol' rhythm and blues. After reading in an interview he is a fan of Mariah Carey, put me off How To Dress Well, but if you look under the veil, you can see how he has turned something horrible and used it, adapted it, in to something of such exquisiteness and zeal that it really shows the condition of being human. One of the deepest and poignant albums I have ever heard in my life. Total Loss is heartbreaking, even for those who do not longer own blood to pump around. It is sentimental, compassionate, wonderfully arranged, full of spirit – it's the best album of the year.
Conclusion
On the whole – 2012 was just as impressive that '11, all due to a lot of acts returning with impressive second albums. Darkness and melancholy plagued my charts this year, not that it's a depressive thing, but it was interesting to see how many haunting albums full of emotion were strong this year. A more psychedelic and meaningful year in the world of audio – I can't wait to see where next year takes our wilted minds. I was quite close minded with my genre types this year, especially in regards to punk and rap.
Honorable mentions:
Frank Ocean
-
ORANGE
Crystal Castles
-
(III)
Blackbird Blackbird
–
Boracay Planet
EP
Tame Impala
–
Lonerism
Burial
–
Kindred EP
Flying Lotus
-
Until the Quiet Comes
Hot Chip
–
In Our Heads
Django Django
-
Django Django
Tanlines
-
Mixed Emotions
Deerhoof
–
Breakup Song