Líderes:
Ninguém! (Quer se candidatar ao cargo de líder? Consulte nossa
seção de ajuda aos grupos
para saber o que você pode fazer.)
Política de associação:
Aberta
Criado em:
17 Out 2006
Descrição:
Damnation Festival, now in it's 6th year and voted UK's best metal event in 2008 by Terrorizer readers - returns to Leeds in 2010 promising to deliver its finest chapter yet....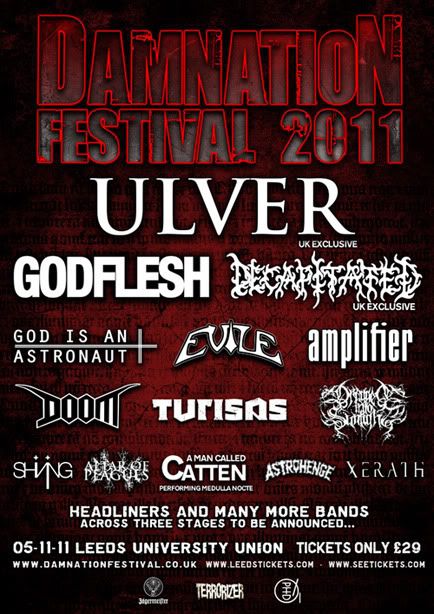 Fest Event Page
-
http://www.last.fm/festival/1780029+Leeds+Damnation+Festival+2011
ENGLISH thrashers EVILE and Finnish folk metallers TURISAS are the latest names added to the DAMNATION FESTIVAL 2011 bill.
The duo - who will play the Jagermeister Stage at Leeds University Union on Saturday, November 5 - are joined by the progressive death of XERATH and a unique, one-off showing of A MAN CALLED CATTEN performing a Medulla Nocte set.
Paul Catten said: "After listening to the Medulla Nocte albums for the first time in many years, I knew I had to play these songs one last time.
"A man Called Catten is a tribute to this material, and my chance to do them justice... playing them as they were meant to be played; live, fast and very loud.
"I'm ecstatic to be able to perform them at Damnation where I have great memories from previous performances, and this is the one and only time you will hear a set comprising of nothing but Nocte tracks.
"Relive your youth... the fucking cat is back!"
Festival director Gavin McInally added: "Evile opened Damnation Festival when we still called Manchester home and following their meteoric rise - which is sure to continue with their new album - it's fantastic to finally have them back at the festival, adding a much needed dose of thrash.
"Turisas will no doubt be a surprise addition to many fans but when men with swords tell you they need a home for a night, you throw open your doors! We're looking forward to a battle with some beers at Damnation as they trek across the country on their UK tour.
"Xerath are a certain to kick-off proceedings in style while the prospect of seeing Paul Catten tearing through Medulla Nocte classics at his vicious best is going to leave the rest of the Terrorizer Stage with a difficult set to follow!"
Tickets priced £29 are available from:
http://www.leedstickets.com/
http://www.seetickets.com/
http://www.ticketline.co.uk/
For more information visit:
http://www.damnationfestival.co.uk
http://www.myspace.com/damnationfestival
http://www.facebook.com/damnationfestival
http://twitter.com/damnationfest
http://www.last.fm/festival/1780029+Leeds+Damnation+Festival+2011
(fest event page, add it to your calendar)
My top 10 of 2009 por garydavidson83 | 30 Dez 2009 |

2 comentários

2008 Ten of the Best (albums) por mat35 | 9 Nov 2008 |

21 comentários

Naisian - Naisian EP por garydavidson83 | 19 Mai 2009
Ver todos